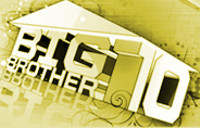 This can hardly be considered a prediction as it's more of a statement. Tonight on Big Brother 10 we're going to see Dan and Memphis vote out Renny, who sits nominated next to Keesha. It was a worse case scenario for Renny and something she warned the Colonel about when he told her of his plans to nom Dan and Keesha. Ah well, sorry, Renny.
Once that formality is out of the way we'll move on to the HoH competition. As I mentioned, Jerry now fully understands that he won't get the chance to compete tonight. His only saving grace will be the Power of Veto comp over the weekend.
Meanwhile, Keesha, Dan, and Memphis will each take a shot at the Head of Household. There's no reason to avoid winning this one other than keeping Jerry's BB blood off your hands. The HoH winner this week will be able to compete in next week's comp. Tonight's competition could be another one of those "take a step back, take a step forward" memory games, but I doubt it'll be an endurance comp. That joy will be saved for next week!
Who has the best chance of taking home the half million dollars?
Sex, Lies, and Video Feeds: Watch it all live & uncensored 24/7 – Free Trial!
Get Big Brother 10 spoilers with the free Big Brother updates. Click here to sign-up for the free updates and never miss a thing.