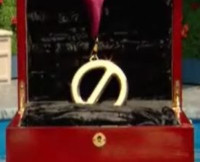 This week's Big Brother 10 Power of Veto ceremony is over and just as expected, the results had a massive impact with explosions!
Memphis, the winner of this week's PoV, used the veto just as expected. That's when the fun started and went just as I predicted.
Instead of nominating Keesha or Renny, as Ollie wanted, Dan nominated Michelle. This didn't go well with Ollie or Macho-elle. I believe Ollie put it to Memphis as, "you're a f%@, suck my d@#$". Classy game player here, folks.
Watch the Ollie, Michelle, Dan, and the rest fight it out live & uncensored.
Update: Ollie is stomping around the backyard throwing things. When Big Brother called him to the diary room he yelled back, "No! F#$% you!" Is Ollie angling to get a penalty nomination?? We've seen it happen before for bad behavior. Season 4 even had a HG (Scott) immediately evicted for throwing chairs.
Renny, Memphis, Dan, and Keesha are hiding in the HoH room while Ollie rampages around the house. Memphis snuck out to see the damage and reported back that Ollie had thrown all their keys across the house, broke a lamp, shattered one of the giant lollipops, and Dan thinks he punched his Memory Wall screen. They're asking why BB hasn't stopped him. I'm guessing because it makes for great live feeds and TV!!
BBN Bonus: Watch is all live right now with the 13% discount!
Insane Update: Ollie is back and he's accusing BB of rigging the game against him. He's with Michelle questioning why Dan would have put up Memphis if he just did what he did (uh, to blindside you, dummy, and it worked). Ollie says there was no way Dan could have known Memphis would win PoV, so it must have been rigged. He says his name wasn't in the the bag for pulling PoV players. Uh, yeah, sure thing.
Paranoia Update: Michelle and Ollie have convinced themselves that Dan is a plant and is rigging the game each step of the way. They're sure Dan isn't a teacher, isn't a coach, and doesn't have a girlfriend Monica. That alone isn't too bad since Michelle will be gone in three days. What is bad is that these two are bending the ears of Keesha and Renny. Either way this doesn't bode well for Dan.
Get Big Brother 10 spoilers with the free Big Brother updates. Click here to sign-up for the free updates and never miss a thing.
Sex, Lies, and Video Feeds: Watch it all live & uncensored 24/7 – Free Trial!

SirLinksALot: Big Brother 10