Feeds Update: Don't miss the short time 33% discount on the live feeds ($5 off)!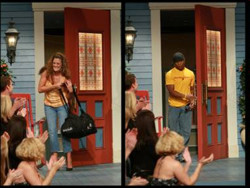 It's a big night in the
Big Brother 10
house with two evictions and two HoH competitions. Several of the HGs are on to the idea that this may happen tonight, but soon they'll know for sure. I've
made my prediction
for the first eviction of the night, but I'm excited to see what happens for the rest of tonight.
Live Eviction Round 1 Voting:
Keesha: Evict Michelle
Memphis: Evict Michelle
Ollie: Evict Jerry
Renny: Evict Michelle
By a vote of 3 – 1, Michelle has been evicted from the Big Brother 10 house!
On Julie's couch Michelle continued to insist Dan was a plant, "personally". She must have said "personally" in every sentence. I was really amazed that Julie told Michelle that Dan was not a plant. Kinda influencing the jurors there, which I'm glad was set straight, but I'm still surprised Chen did that. Michelle also "knows" that Dan will be the next HG evicted tonight. Let's find out!
HoH Competition Round 1 – "Big Brother Headlines": Step Up, Step Down
Question 1: Everyone but Renny gets a point
Question 2: Ollie, Jerry, and Keesha get a point
Question 3: Only Jerry gets a point
Question 4: Everyone but Memphis gets a point
Question 5: Only Renny gets a point
Question 6: Jerry and Keesha get a point
Question 7: Keesha, Renny, and Memphis get a point

Jerry and Keesha tie!

Tie Breaker: How many total lollipops were on the table?

Jerry and Keesha guess the same number (100)!

Tie Breaker #2: Number of seconds of winners' time in last PoV?

Jerry guesses 320 seconds; Keesha guesses 500 seconds; Correct answer was 1000+
Keesha is the new HoH!
HoH Nomination Ceremony: Keesha nominates Ollie and Jerry.
Power of Veto Competition – "Veto In A Haystack": Search & Find
Dan finds the first veto medallion first
Dan finds the second veto medallion first
Dan is the PoV winner!
Bye bye, Ollie! I don't think Dan will be using this Veto.
Power of Veto Ceremony: Dan decides to not use the PoV.
Live Eviction Round 2 Voting:
Dan: Evict Ollie
Renny: Evict Ollie

It's official, Ollie has been evicted.

Memphis: Evict Ollie
By a vote of 3 – 0, Ollie has been evicted from the BB10 house!
The second HoH competition won't be shown live tonight. Instead it'll take place soon in the BB10 house. Sign up for the live feeds to watch what happens and then get the Big Brother 10 email updates so you don't miss a thing.
Be a fly on the BB10 wall: Sex, Lies, and Video Feeds 24/7 – Free Trial
If you sign up for the free Big Brother 10 updates, you'll receive spoilers and news as they happen in the BB10 house.