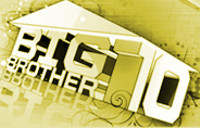 Another Thursday, another
Big Brother 10
eviction. But unlike the previous six weeks of BB10, tonight will be special because we're about to be treated to a Double Eviction extravaganza!
Not much has changed in the BB house since yesterday when I noted things looked like a lock for Michelle to join the other ladies in the jury hour. The only question is will Ollie vote for his partner in crime, or will he side with the other HGs and vote out Michelle 4-0?
Once the formality of sending away Michelle is over the excitement will spike as we'll have our first HoH competition of the night. Dan will have to sit on the sidelines and watch as Ollie, Jerry, Renny, Memphis, and Keesha compete for the Head of Household position. From there we'll rush through a week's worth of events, culminating with the second eviction vote. I certainly haven't hidden my preference to see Ollie or Jerry hit the road in round two, but I'm all for a little power balancing as well.
Watch Big Brother 10 live & uncensored 24/7 – Free Trial
No matter who leaves for the second eviction we'll be treated to yet another HoH competition. With a full week's worth of time behind this one there will be more wheeling and dealing to work through. Dan will be able to compete this time around while whoever won the first HoH comp will have to take a seat.
By the end of the jam-packed one hour episode there will be a huge set of twists and turns. Check back tonight during the show for a live, play-by-play recap of the action. See you then!
Sex, Lies, and Video Feeds: Watch it all live & uncensored 24/7 – Free Trial!
Get Big Brother 10 spoilers with the free Big Brother updates. Click here to sign-up for the free updates and never miss a thing.