Update: The endurance competition is over! Scroll down to see who won!
Week 6 of Big Brother 10 is over, so it's time for a live eviction and a new HoH. Rumor has it there will be an endurance competition tonight. If it is then I'll be here all night recapping it live. Watch it all live with the discount and Free Trial.
I'll be updating this post here with the eviction and HoH competition results.
Live Eviction voting:
Keesha: Evict April
Memphis: Evict April
Ollie: Evict Jerry
Dan: Evict April

Dan, the constant joker, says, "I vote to evict Jer… April." Haha.
It's official, April has been evicted.

Michelle: Evict April
By a vote of 4 – 1, April has been evicted from the Big Brother 10 house!
Just got a glimpse of the HoH competition set. Definitely an endurance. They'll be sitting on rope swings. That's all I know so far. Stay tuned for the results.
Watch the HoH Endurance Competition – Free Trial!
HoH Competition – "King of the Jungle" – Endurance style:
5:50PM BBT – Julie explains the object is to be the last HG remaining on their rope swing. That HG will become the new HoH. Dan wisely came equipped with a rain coat and gloves. Big Brother is pouring 'rain' on them and swinging the HGs.
5:55PM BBT – Julie informs us that next Thursday will be a Double Eviction night! Back to the competition we see all HGs remain. The swing just threw all the HGs into the wall! Wow! They did it again and they are swinging them into that wall HARD! Dan makes a joke about his 'nuts' getting hit hard.
6:00PM BBT – Waiting for the live feeds to turn back on post-show.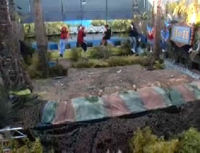 6:05PM BBT
– Still waiting on the
feeds
…
6:10PM BBT – This delay is normal as it usually takes about 10-15 minutes.
6:15PM BBT – Any minute now… Come on live feeds!
6:20PM BBT – And we're live!! All 6 are still in.
6:25PM BBT – Dan is doing lines from "Old School", "you're my boy, Blue!"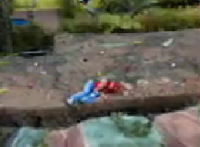 6:30PM BBT – Jerry just dropped! He can't move his legs well, he says. They're just asleep. He'll be okay. 5 others remain.
6:35PM BBT – Jerry is on the sidelines calling out to them. He tells Memphis he's doing well. Memphis says everyone still up there is doing well. 5 remain.
6:40PM BBT – Memphis, Keesha, and Dan are whispering. Too quiet to tell for sure. Perhaps an agreement to drop?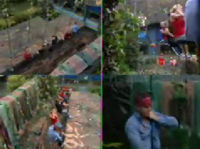 6:45PM BBT – The rain and wall slamming has returned. This is one brutal HoH comp to watch! There are water balloons attached to the wall. The HGs are grabbing them as they slam into the wall and then throw them at each other. Michelle got hit in the eye. Dan was hit in the lip.
6:50PM BBT – 5 remain: Memphis, Dan, Keesha, Michelle, and Ollie. Jerry can't believe no one else has dropped after an hour.
6:53PM BBT – Keesha dropped!
6:55PM BBT – More wall slamming. The swing drops several feet and then swings HARD to the side and into the wall. I think that would easily jar most folks loose. Not me though, I'm tough, tough like Jessie! Muahaha!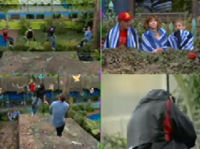 7:00PM BBT – 4 remain: Memphis, Michelle, Dan, & Ollie.
7:05PM BBT – HGs quiet on the ropes. Jerry and Keesha share "war stories" about their aches and pains from the swing.
7:10PM BBT – Jerry is throwing water balloons up to the swingers to play with. There is no way I'd let an arm loose to grab that! BB should swing them right when they take a hand off. Hah! They just swung them. No one fell.
7:11PM BBT – "Memphis' got a big butt," says Renny.
7:20PM BBT – Feeds on a temp 'break'. Perhaps a rule change?
7:21PM BBT – Feeds are back! 4 remain: Ollie, Michelle, Memphis, & Dan. More wall-slamming. I hope you get to see this. I'm really impressed with all of them for hanging on through this. It's rough!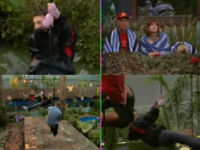 7:25PM BBT – All is quiet from our 4 swinging HGs.
7:30PM BBT – 4 remain: Ollie, Michelle, Memphis & Dan. Jerry is on the sidelines talking about how hungry he is. I'm surprised they're not heading back inside.
7:35PM BBT – Rain returns with more wall-slams. Dan says, "that was the hardest one yet." Michelle groans from the hit.
7:38PM BBT – Big Brother is really turning up the juice and appears to be swinging them harder into the walls. Lots of grunts from the 4 swingers left.
7:40PM BBT – Rain stops. 4 remain: Ollie, Michelle, Memphis, & Dan.
7:45PM BBT – Swinging HGs sit quietly as they're repeatedly slammed into the wall. You've gotta watch this to believe how rough they're getting hit.
7:56PM BBT – Michelle and Keesha inside showering (ohh la la!). Michelle complaining about Dan getting a rain coat.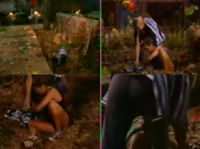 7:47PM BBT – Michelle just dropped! Michelle says her leg got caught in "that f'ing net" and she was pulled off. She says she did not drop out of weakness.
7:50PM BBT – Big Brother is opening the house back up. 3 remain: Ollie, Memphis, & Dan.
7:55PM BBT – Wall-slams return. Still 3 men swinging away.
8:00PM BBT – None of the 3 guys are talking. I think they should take this chance (everyone else is inside) to work a deal. Michelle still complaining about Dan's coat.
8:05PM BBT – Renny returns outside with Jerry to watch the remaining 3 HGs compete. Keesha and Michelle stay inside and make out in the shower… just kidding!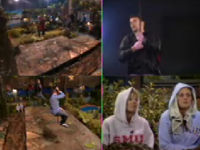 8:10PM BBT – Michelle comes back outside to watch. Ollie, Memphis, & Dan are still hanging out and getting the crap beat out of them by that wall. They'll be able to spend the day tomorrow counting their bruises!
8:20PM BBT – All 3 guys still swinging!
8:25PM BBT – The guys swing quietly while Jerry tosses them water balloons to play with. The ladies sit on the sidelines and comment on who is getting tired (all of them?).
8:30PM BBT – Feeds go to Trivia. While we wait, anyone going to watch the 90210 remake?
8:35PM BBT – Feeds are back. Phew! For the first moment I thought Dan was walking around, but it was just an optical illusion. Ollie, Memphis, & Dan remain on the swings.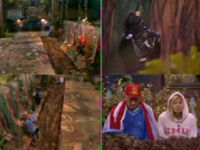 8:40PM BBT – Michelle promises the boys chicken nuggets later. Memphis responds, "yah!" and breaks the silence. These guys must be in serious deep thought!
8:42PM BBT – Michelle comments on Dan shaking. She says, "he's going, he's going." BB immediately drops the swings into the wall… Dan doesn't fall! All 3 remain.
8:50PM BBT – All quiet on the Big Brother 10 front. Ollie, Memphis, & Dan sit quietly on their swings.
8:55PM BBT – The three sit quietly. No changes to report.
9:00PM BBT – Michelle providing the guys encouragement. All remain quiet. Still no "wheelin' and dealin'" amongst them.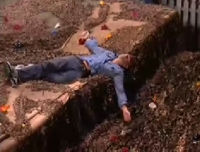 9:05PM BBT – Memphis just dropped! Memphis lays there on the ground for awhile trying to collect himself. Only Ollie and Dan remain! One of these two will be the new BB10 HoH!
9:10PM BBT – Ollie starts to talk to Dan, possibly to make a deal and BB cuts the feeds! Arrgh!
9:15PM BBT – The feeds are still on trivia.
9:20PM BBT – Hmm… 10 mins of trivia? Is BB changing the rules and having a little talk with the two remaining HGs, Ollie and Dan?
9:25PM BBT – 15 mins of trivia…
9:30PM BBT – Still trivia. If we don't return to someone with a broken bone I'm gonna really wonder what was going on during all this cut-away time! Any guesses?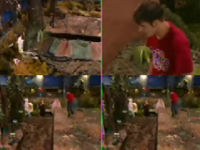 9:35PM BBT – Trivia still rolling, but word is the cameras are still rolling for Showtime's "BB After Dark". Ollie and Dan are both still up.
9:38PM BBT – Feeds are finally back!! Ollie just dropped! After 3 hours and 48 minutes, the competition is over.
Dan is the new Head of Household!
Watch the HoH competition live and uncensored right now – Free Trial!
Don't want to stay up all night? Sign up for the free BB10 email updates and get the HoH results in your Inbox!