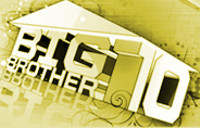 It's Thursday again, so that means another live eviction and a newly crowned Head of Household for Big Brother 10 fans.
Readers have spoken and it looks like most of you want April out of the house this week. I don't think you'll be disappointed.
Ollie and Michelle have campaigned for the third vote they'd need, but neither Dan, Memphis, nor Keesha will be giving that one away. The only surprise tonight will be if Ollie gives April a sympathy vote or goes with the house. I doubt anyone would be upset if he did, but I would imagine April being irked if he didn't! With this line up of votes for tonight's BB10 eviction I think it's entirely safe to say that April will be evicted.
Moving on to the HoH competition I'm hearing rumors that we'll be treated to another endurance competition. If that's the case I'll be here all night updating it live just like last time. I'm hoping for more hilarious entertainment out of Dan.
If you've been considering the live feeds then today would be the time to try them especially considering the 13% discount and Free Trial.
Who do you want to see win the next HoH competition?
Update: CBS just sent over this announcement for a new "America's Choice":
After 45-days cutoff from the outside world, the BIG BROTHER 10 Houseguests really miss their loved ones. Which Houseguest would viewers like to see get a phone call from home? America will get the chance to vote for who they think deserves a call from home by text messaging or visiting www.cbs.com. Polls will open during the live show and end at 11:59 PM, PST on Thursday, August 21. The winner of the America 's Choice vote will be broadcast Tuesday, Aug. 26 (9:00-10:00 PM, ET/PT) on the CBS Television Network.
Be a fly on the BB10 wall: Sex, Lies, and Video Feeds 24/7 – Free Trial
If you sign up for the free Big Brother 10 updates, you'll receive spoilers and news as they happen in the BB10 house.