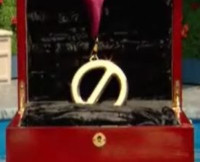 This week's Big Brother 10 Power of Veto ceremony is over.
Once again, Jerry did not use the Power of Veto. This leaves the HoH nominations as originally announced: Libra and Keesha.
Word is that Jerry rambled far too long about Dan and his betrayal with Jessie's eviction. Apparently Jerry wants to turn Dan into his white whale this week. Will it last? Or will Jerry run it into the ground until everyone is sick of hearing his rants? I'm guessing the latter.
Get Big Brother 10 spoilers with the free Big Brother updates. Click here to sign-up for the free updates and never miss a thing.
Sex, Lies, and Video Feeds: Watch it all live & uncensored 24/7 – Free Trial!