Update: FX Networks just sent me another goodie to giveaway. This time it is an autographed poster for their new series "Sons of Anarchy". Pretty cool. Send me an email from this page if you want it.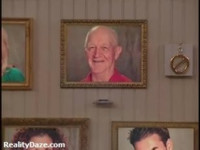 We're still waiting on this week's Power of Veto ceremony for Big Brother 10. Jerry won the PoV over the weekend, but still hasn't had the chance to reveal his decision. Like last week, I'm expecting that announcement to arrive this afternoon so keep checking back for those spoilers.
I don't think we'll see Jerry use the PoV at this point because Michelle remains set on Libra's expulsion and Jerry wouldn't want to "disrespect" her wishes. I think Dan was in some definite danger there, but lucky for him Michelle hasn't shifted her focus just yet. Dan's not in the clear yet though.
Most of the houseguests are pretty sure Dan is up to something. Their most common suspicion is that Dan is America's Player for Big Brother 10. Apparently Jessie witnessed Dan checking out the mirrors during their 17 second hug and shared that observation. Of course they're right on with that particular moment, but they're even suspecting him for just weird behavior. Dan sat around with Libra for an hour last night chatting about her personal life, no game talk at all. However, this set of a chain of ramblings amongst the other HGs who suspect he's working to save Libra. He's not.
Things continue to look like a lock for Libra's eviction this Thursday. Honestly, I think if she hadn't taken that Hawaiian vacation from Michelle she'd probably be safe right now and Dan would be in the hot seat for his betrayal. There was just no way for Libra to know that Michelle would be getting the power so soon. It's also too bad Renny's little talk with Michelle regarding April's own betrayal didn't prove more fruitful. Ah well, April will be gone soon enough, despite her perception that she's America's most beloved Big Brother 10 HG. Ugh.
Watch the HGs continue to implode live and uncensored ($2 off & Free Trial).
Get Big Brother 10 spoilers for the PoV ceremony with the free Big Brother updates. Click here to sign-up for the free updates and never miss a thing.
Update #2: The Power of Veto ceremony is over. Click here for results.