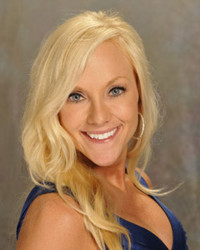 After two hours and forty-five minutes, April was crowned the new Head of Household for Week 4 of Big Brother 10. Congratulations to everyone that lasted more than 30 minutes (ahem, I'm looking at you, Libra), especially to Michelle, Renny, and April for being the last three. Renny both surprised and impressed me the most, just like Sheila last season, for hanging in there for so long when it couldn't have been easy.
Before dropping, Michelle made April promise not to nominate her or Jessie, to which April agreed. Honestly, April could have said "screw you" to the request and Michelle wouldn't have had an option. Michelle was crying and shuddering and just couldn't hold out any longer while April likely could have stayed up there for several more hours. All the same, I think April will honor the agreement and keep those two safe.
With the number of HGs left quickly dropping and another two options off her list, April won't have many choices tonight when she announces her nominations on the live feeds. April's core alliance consists of: Keesha, Libra, and Ollie. So take those three off the list along with Michelle and Jessie (assuming April keeps her promise). That leaves: Renny, Jerry, Dan, and Memphis.
I don't see April nominating Renny, so I'm taking her off the list too. Dan would be an easy target because he's got no one to back up him and that means if he left there wouldn't be any Keesha-like revenge seeking. However, I think the HGs are warming up to Dan and especially considering his hilarious motivational speeches last night (I really hope you got to hear him as "Mr. Inspiring Football Coach"). I don't see Dan taking the heat, so he's off the list too.
That leaves us with just two options: Jerry and Memphis. Memphis hasn't done too much so far, besides winning the classic car, but he still has potential to do some damage. Jerry hasn't been too popular of late and has been causing plenty of drama in the Big Brother 10 house, an often used excuse for someone's nomination. Considering these conditions, I'm going with these two houseguests as my predictions for April's nominations: Jerry & Memphis.
In a perfect and very entertaining world, April would throw caution to the wind and nominate Jessie and Michelle. It'd be hilarious and cause a fun-filled week of drama on the uncensored feeds. Is that likely to happen? Not at all, but I did stay up till midnight for April, so she owes me!
Update: Uh oh! While catching up on my overnight BB10 updates I'm seeing that it looks like April might be going back on her word afterall. Woohoo! From the sound of it I'm still half right on my prediction, but replace one "J" HG with the other. Hilarious. Poor little flesh-colored Michelin Man…
Be a fly on the BB10 wall: Sex, Lies, and Video Feeds 24/7 – Free Trial
If you sign up for the free Big Brother 10 updates, you'll receive spoilers and news for April's nominations as soon as they are revealed in the BB10 house.