Becky Burgess was evicted from Big Brother 17 on Thursday making her the third member of the Jury and a potential returning Houseguest per the now well expected gimmick of someone coming back after being voted out.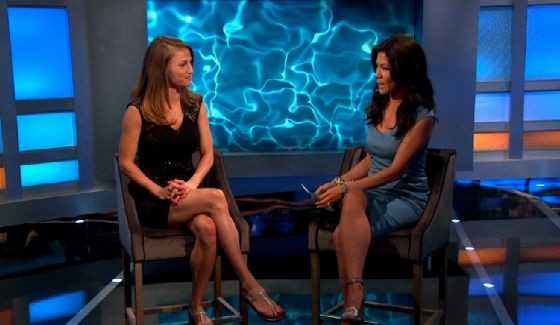 After falling victim to waffling allies Becky found herself on the losing side of the Vanessa battle after putting all of her eggs in the Goblins basket and then watching it fall apart all around her last week. Now in the Jury we had the chance to ask her about a few of those decisions, who was to blame, and what she'd do with a second chance in the Big Brother house.
Update: Pop has shared their exit interview for Becky Burgess and "Jecky" hopefuls can finally find peace knowing the truth. Click below to read her full interview for Big Brother After Dark.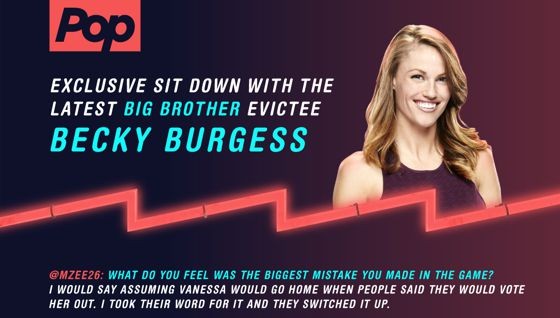 Read what else Becky had to say in our Q&A interview as well:
Who do you blame the most for the foiled attempt at evicting Vanessa last week?
Becky Burgess: I blame myself. I should have approached the situation better and allowed the house to choose. At the end of the day, people will get rid of the person that will help better their game, not who the HOH wants out.
Why do you think so many HGs resisted evicting Vanessa?
Becky: Shelli seemed to be a bigger target at the time and Vanessa has a stronger social game than Shelli. She was able to campaign better.
Do you think you'd still be heading to Jury today if your evict-Vanessa plan had been successful?
Becky: No, I would not be. I would still be safe in the house hopefully meeting Zingbot this week.
Looking back, how do you feel about your strategy to play as a free agent to both sides before trying to settle in with one group?
Becky: I feel that it helped me stay in the game longer than some individuals that formed alliances too quickly.

However, at the end of the day, when I did pick a side, I trusted them too much and should have thought more as an independent when making decisions in the game.
How bad do you want to win that chance to get back in and who would you target first?
Becky: I absolutely want to be the one that gets to go back into the house. If I were to return and win HOH, I would need to decide if I want to continue going after Vanessa or Liz.
What remains your biggest mystery from the season that you can't wait to have answered?
Becky: What America is voting on. I don't feel there have been very many twists or changes in the game so I'm curious to know what they're doing.
As a newcomer to Big Brother, what turned out to be your biggest surprise in your BB17 experience?
Becky: I felt I could be a better player after studying the game so much. As we've all heard a thousand times, it's so much harder to play the game when you're home watching from the couch. At the end of the day you can't help but be yourself.
Which remaining HG right now do you see as having the best chance to make it to the end?
Becky: Steve
Watch our preseason interview with Becky Burgess and see how her game compared to her plans: