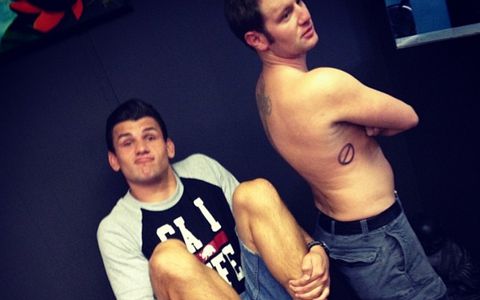 Big Brother might be over for the season, but some of this year's houseguests are ready to keep the fun alive for a lot longer. McCrae, Jeremy, and Judd decided to go together and get BB15 themed tattoos to commemorate their experience with a little ink.
McCrae and Judd each decided to go with the Power of Veto symbol while Jeremy opt'd for a more subtle "XV" across his big toes. Go figure the guy already covered in the most tattoos goes for the more modest option!
McCrae's Veto tattoo is over his right shoulder and is an outline of the symbol. Judd had his done under his right arm on his side and went for a filled-in version of the Veto.
click images to see full-size
Update: New pictures added thanks to McCrae's Instagram account. There's a close-up of Jeremy's "XV" tattoo on his toes, Amanda watching as the guys get tattooed, and a new shot of the guys posing with the tattoo artist.
click images to see full-size
Luckily former Big Brother 15 HG Amanda was along for the adventure and took lots of great pics and video of the event. Check out the picture gallery here and then see even more of them over at Big Brother Access.
What do you think of their Big Brother tattoo choices? Which one is the best? Vote in our poll below and then share your thoughts!