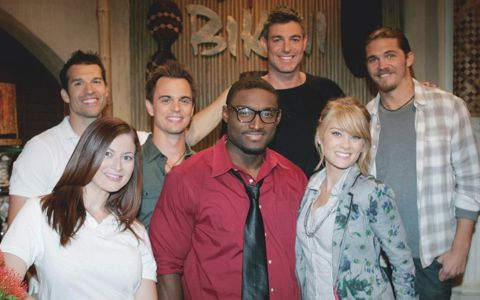 This week Big Brother former HGs will be taking over "The Bold & The Beautiful" when they guest star on the series. Big Brother 15's Elissa Slater and Howard Overby will appear on episodes this Thursday and Friday along with other former Big Brother HGs Jeff Schroeder, Brendon Villegas, and Rachel Reilly.
The BB houseguests will appear in scenes set at the "Bikini Bar" in this week's shows on the 24th and 25th. Howard will be playing a DJ who appears to be pretty excited about karaoke. Elissa is featured as the bar's hostess. Brendon is there as a bartender and Rachel might be a waitress based on her outfit matching Brendon's.
click images to see full-size
Interestingly, Brendon is introduced as being from The Amazing Race instead of Big Brother where he spent two summers. Along with the Big Brother houseguests we'll see another CBS reality star from Survivor, Malcolm Freberg.
Fans who can't get enough of Rachel and Elissa can see even more of them next week when both appear on October 30th and 31st for scenes at the Forrester Boutique.
Watch the preview clip below to see Big Brother HGs in their "The Bold and The Beautiful" appearances. Will you be watching them on B&B?