Austin Matelson walked out the front door of the Big Brother house without so much as his shoes on but he did have an incredible look of shock on his face.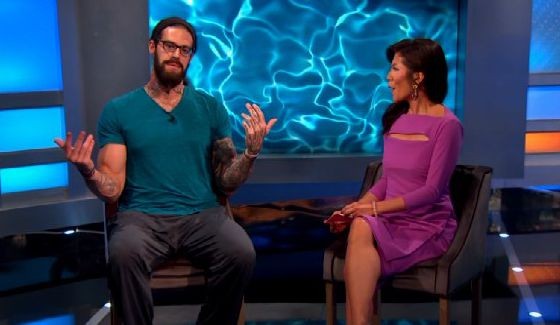 Yes, it was blindside time in the Big Brother 17 house on Tuesday night when Austin was caught off guard when Vanessa broke the tie against him and sent him out the door to join the Jury. When he left the house Austin warned Vanessa this had sunk her chances of a victory, but did he still feel the same hours later? Read on to find out.
You seemed in total shock when you walked out of the house – completely blindsided. What was going through your head at that moment?
Austin: Vanessa completely betrayed me. I knew it was a possibility because it's Big Brother, but her whole game was about playing with integrity and not betraying me since we made a final two deal on the second day. She swore to me on her family, her girlfriend, the LGBT community and the Bible and she'll have to deal with those consequences of making those pledges and going back on it.

Then, I thought about Liz. I felt so bad that she would have to stay in that environment. Her heart is too good to play with people like this and I can't be there to protect her. That's the hardest part for me.
BBN: Why do you think Vanessa broke the tie against you and do you blame her or John for your eviction?
Austin: I don't know. I honestly don't know. I don't blame John – I was never aligned with John. I thought she would never do this to me, especially after shaking my hand, not just on day 2 but this week as well. It just doesn't seem necessary and I think it's going to cost her the game.
BBN: Despite Vanessa nearly backdooring you and repeated warnings from HGs you continued to work with and seemingly trust her. Did you really trust Vanessa and what was your perception of her in the game?
Austin: I never fully trusted her. However, I really never had a chance to eliminate her. When Liz and I were in power, we could not have taken her out because she won the HOH during the jury comp so she would have been back in the house.

Ultimately, she also won too many competitions and was in power too often. Perhaps in hindsight, I should have kept James safe but I wanted to trust somebody I made a deal with. My bad.
BBN: What advice would you send back to Liz right now to help her get through to the end?
Austin: Liz – I love you. You are the strongest girl I've ever met and you have the ability within you to win the final few competitions and take home the grand prize. The light at the end of the tunnel is there and I believe in you.
BBN: What happened to your "princess in a castle" that you told us about preseason when you mentioned a showmance wasn't going to be part of your game.
Austin: I found my real princess.
BBN: You mentioned recently that you had to target the guys early on because they were competition against you for Liz. How many of your eviction votes were based on romantic interests instead of game strategy?
Austin: Zero. That was me being sarcastic. But, Liz is very attractive and it's tough keeping guys away from her. I have my work cut out for me.
BBN: Aside from voting, how else did your showmance impact your game? Do you think it helped or hurt you overall?
Austin: I think it helped it because after week one when Jace was backdoored, I decided to play this game protecting Liz. Next thing you know, we're developing feelings for each other, she has a twin sister and we were in a strong position in the house.

My strategy evolved out of our relationship. Ultimately, that did not cost me the game. What cost me the game, was trusting Vanessa's integrity.
BBN: Which two Houseguests do you most hope to see sitting at the F2?
Austin: Liz and Steve.
BBN: What is the biggest mystery you're anxious to have answered once Big Brother 17 is over?
Austin: Well, obviously why Vanessa decided to betray me now and what was up with Audrey?
Watch our preseason interview with Austin Matelson to see how his game transformed from his planned strategy: