Tonight on Big Brother the Final 4 HoH was crowned when Julie Chen hosted the backyard battle that secured one Houseguest a seat in the F3.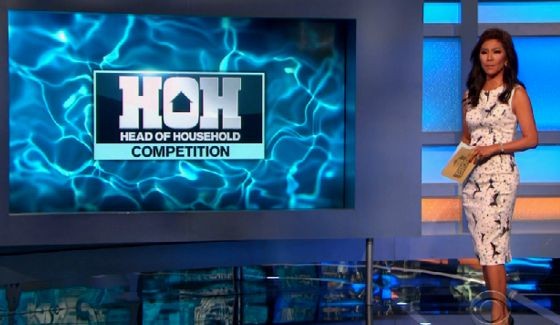 Following a "surprise" eviction that left tonight's victim stumbling out the front door without even his shoes on the surviving HGs went on outside to see who would be the next to last Head of Household.
Yes, just as I explained would happen, Austin headed on out the door and Steve stayed behind. Oh, and Steve didn't just stay behind, he went from the doghouse to the penthouse in classic Big Brother form.
This round's HoH challenge was "What The Bleep?" which used Houseguest sound bites from the season but with crucial words removed. Julie then offered a word that the players had to decide was either true or false. Seven rounds to go and the most points gets the win.
Liz scored 0 points since she was only right when John and Steve were also right. Steve and John both earned 2 points which lead to a tie-breaker.
Julie asked John and Steve to estimate how many seconds from start to finish the "Under the Rainbow" HoH comp lasted on Thursday. John guessed 3600 seconds while Steve guess 601. The answer was just under 2900 seconds. John went over and Steve became the new HoH.
Here's the play by play for each round as John, Liz, & Steve faced off:
Round 1: All get a point
Round 2: All get a point
Round 3: Steve gets a point
Round 4: All get a point
Round 5: John gets a point
Round 6: No one gets a point
Round 7: John & Steve get a point
Tie-breaker: Steve wins after John goes over!
Now we're waiting on the Feeds to return and discover who Steve put on the Block, which really doesn't matter by the way, but go ahead and try to convince me otherwise :). Then we'll get the Veto competition spoilers and that's the big one since it'll decide who gets to cast the sole vote. More power with the Veto winner than the HoH this week. Spoilers available at 9PM PT tonight.
Want to find out what happened with the Veto? Find us on Facebook, Twitter, & get our Email Updates for the news to be sent directly to you!