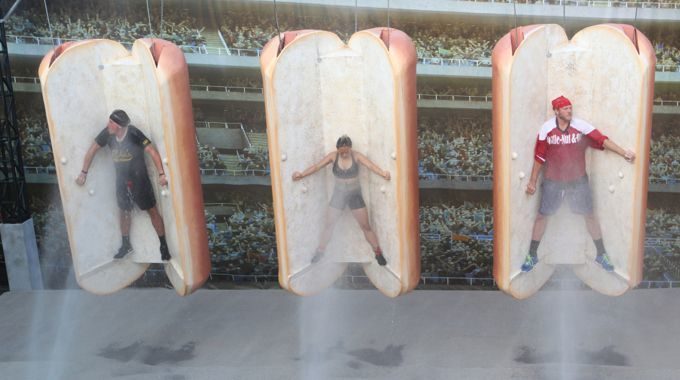 Another week of Big Brother 19 adds another Juror to the pool, but what are they doing out there in the post-game sequester house? This week for our interview with Big Brother Executive Producer we posed the question of just how much game talk goes on out there.
We were also happy to see Christmas's recovery coming along and were curious when she'd be back in the game for physical comps. And lastly, what most Feedsters want: more on-Feed comps! Will that happen? Read on to see what Allison Grodner had to say.
Big Brother Network: Jury has arrived and is starting to fill up quickly. As evicted HGs begin to arrive we're always curious when or if they'll start to compare notes on who's running the house. Are the jurors allowed to talk about game and their big vote during their time there or is there a limit to conversations and topics?
Allison Grodner: Each new juror arrives at the house with a camera crew and a DVD of group events minus the interviews. The day is spent watching the footage with the new juror and hearing their perspective on what has happened. Once the camera crew goes away, the jurors are encouraged to spend their time relaxing and enjoying their privacy until the next juror arrives to talk game.
Christmas's cast has come off! She's mentioned needing a few more weeks before she can put weight on it, but have doctors said when she can be in physical comps again? I'm thinking ahead to critical end of season comps, if she makes it that far, and whether she'll be able to participate.
Grodner: The decision of whether or not Christmas can participate in competitions is strictly a medical decision and will continue to be a medical decision as long as she is in the game.
Seeing the slip n slide HoH competition show up as a Veto comp was a great idea to keep the HGs on their toes, but then Feedsters missed all that fun. Since BBOTT showed an on-Feeds Veto comp could work, what are the chances that we could see something like that play out as an endurance Veto challenge for Feedsters to watch live?
Grodner: The chances of a veto competition happening live are slim because we film it on Saturday and we like to save the surprise of how it played out for the broadcast show that airs on Wednesday.
Thank you!
Well I guess we won't know much about Christmas's chances of competing in F3 unless she makes it there! As for the Veto comps on the Live Feeds? We'll have to keep our fingers crossed, but it doesn't sound likely.
What's your take on this past week of Big Brother 19? Share your thoughts below!