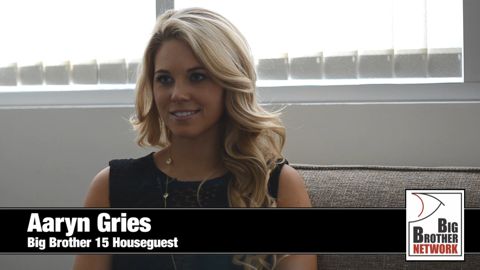 Aaryn Gries came on Big Brother 15 with the hopes of finding a path to stardom but her recent actions in the house have put her on the reverse course in the fast lane.
The 22 year-old college student out of San Marcos, Texas grabbed national headlines when she, along with several other HGs, made a string of racially insensitive and homophobic comments against her fellow competitors over the course of several days on the CBS reality series' Live Feeds show uncensored live events between episodes.
Houseguests' comments have included Aaryn saying Helen Kim should "shut up and go make her some rice" and for other HGs to "be careful what you say in the dark, you might not see the bitch" regarding Candice Stewart. GinaMarie Zimmerman has described welfare as "n****r insurance" and suggested hitting Helen in the head to make her eyes straight. David Girton, Aaryn's on/off in-house boyfriend, told Aaryn his bed sheets smelled because of "black Candice."
Meanwhile, HGs have called Andy Herren several homophobic slurs to his face, claiming the comments to be jokes. Amanda Zuckerman called Andy "F*ggoty Ann" with Spencer Clawson referring him to as "Kermit the F*g. Aaryn also referred to Andy as "queer" and feared America would vote to support him as they "love the queers."
Zephyr Talent, a modeling agency based out of Austin, Texas, announced late last night that Aaryn was being released from her contract with the agency in a step to distance themselves from her vile behavior. They released this statement via Facebook:
Aaryn, season 15 cast member of Big Brother, revealed prejudices and other beliefs that we (Zephyr Talent) do not condone. We certainly find the statements made by Aaryn on the live Internet feed to be offensive.

Any views or opinions expressed in personal commentary by Aaryn, either on any live feed from the House or during the broadcast, are hers alone and do not represent the views or opinions of Zephyr Talent. Upon much consideration, we have decided to release Aaryn from her contract with Zephyr Talent.
Gries appears unaware of the depth or consequences of her actions as she expressed concern on Monday of letting down her fellow Texans by allowing unflattering images of her to be captured from the Live Feed views. She made no mention at that time of worry over her disparaging and hurtful remarks.
CBS has said they found Aaryn's comments "offensive" but we believe it is unlikely they will take action against the cast member based on similar past season events.
You can watch all of these events from the uncensored Big Brother video feeds using CBS' Archives "flashback" feature on the Live Feeds. Get a free trial of the video service to see what other fans are watching and reporting.
Update: Aaryn has lost a second modeling job. This time with Bella Petite.
click images to see full-size
Watch Aaryn Gries' cast interview with Big Brother Network: