Big Brother 11: Week 4 PoV Competition Results – Spoilers
|
August 1, 2009 at 6:19 PM EDT
The Power of Veto Ceremony is over in the Big Brother 11 house. To find out who won click "continue reading" for the spoilers…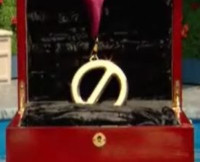 Michele, one of the PoV competitors but not a nominee, is the winner in this week's Big Brother 11 Veto competition. Will she use it to save Ronnie, her previous clique-mate, Lydia, or leave the noms as they stand? I'm thinking she's smart enough to leave it all alone or at least I hope so!
Michele faced off against Russell, Ronnie, Lydia, Kevin, and Jessie in today's Power of Veto competition. After the competition was over and the live feeds returned Russell has been laying into Ronnie, yelling at him to pack his bags.
What do you think? Should Michele use the Veto? Who would you save?
You can also check in on the house and see what's happening right now on the live feeds and try it for free and get the 13% discount before it expires.
SHARE YOUR THOUGHTS! LEAVE A COMMENT NOW:
Commenting Rules:
Keep the conversation civil and on topic. If your comment does not add to the conversation or is insulting to others, it will be removed. Debate intelligently. No ALL-CAPS.