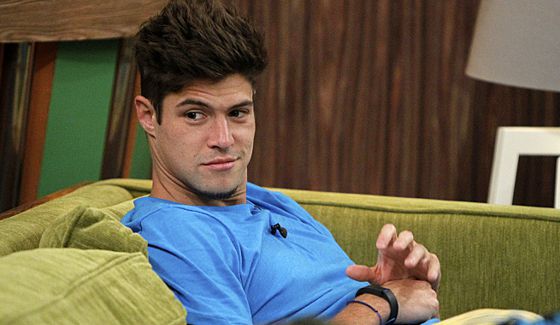 A fan favorite walked out the door last night on Big Brother 16 for the second week in a row, but this one seems to have left a bigger crater in the Big Brother fan community. After losing his chance to get back in the game Zach Rance is now off to the Jury House where he won't have to worry about being blamed for any more Team America mission craziness.
Find out what Zach had to say about his wild game moves, the Zankie trust issues, and what he might do if Victoria made it to Final Two. Read on for our interview with Zach Rance:
Matthew Boyer – Big Brother Network (BBN): What would you do differently to keep Zankie together and dominating until you were both in the Final 2?
Zach Rance: Keep my Froot Loop dingus mouth shut!
BBN: Zankie seemed sincere at the start, but then there was the falling out. Did you ever fully reconcile in the house before he renom'd you or were you only pretending to be back with Frankie?
Zach: No, once our trust was broken it couldn't be fixed.
BBN: Your style seemed to strongly reflect Dr. Will Kirby's at times. Did you plan to try a similar approach?
Zach: Yes, without a doubt. I want to be him.
BBN: Was your strategy always to get people upset with you or did you shift to that approach once you saw how things were going?
Zach: Ok, I wanted people to hate me so much so they didn't give me the satisfaction of hating me so they would actually like me to not vote me out.
BBN: Your decision to tell Devin to put you on the block seemed dangerous. Was that actually part of a plan to get him to nominate you or was it out of frustration?
Zach: I wanted him to put me on the block since I wasn't going to go home next to Pao Pao…she's the worst and if Devin did something crazy like that, he would go home next.
BBN: Who do you think the Saboteur was and how badly do you think that event of missing items hurt your game, if at all?
Zach: I have no idea who the saboteur was and it's killing me inside that I don't know who it is!!!! And yes, it hurt my game because people thought it was me and that I was getting extra money for bring havoc into the house!!
BBN: What would you think of Victoria making it to F2? How did her shredding the pink hat change your feelings toward her?
Zach: Um, before she shredded the pink hat, I would projectile vomit everywhere and after she shredded the pink hat, I would lose faith in mankind altogether.
BBN: Who do you HOPE will win it all versus who do you THINK will win it all?
Zach: I want Derrick or Donny to win but I think Nicole is going to win now.
BBN: What will be your favorite memory from your time on Big Brother?
Zach: There's so many! My favorite memory was yelling at Devin at the second veto ceremony when he tried to backdoor me.
BBN: What's next for Zach Rance? What are you going to do after the season is over?
Zach: You'll just have to wait and see…I'm just waiting for the next heroes vs. villains season.
BBN: Thank you for a wonderful season, Zach. You did an incredible job of keeping us entertained and there's nothing more that we could ask for. Kudos, Zach!