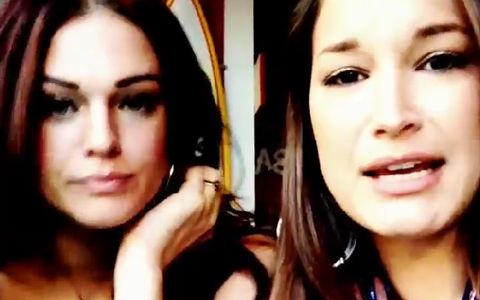 Big Brother houseguests Kaitlin Barnaby and Jessie Kowalski don't have to rely on booze deliveries from production anymore. Especially when they head to Las Vegas!
Since being evicted earlier this summer Kaitlin decided to change things up in life, traded in the cold winters of Minnesota, and headed out to Sin City to continue her bartending there. We've seen her party there with BB6's James Rhine but this past weekend she recruited Jessie, fresh off her visit to see Judd, to join her for a few days of fun.
From pictures these two Big Brother HGs posted on Twitter and Instagram they looked to be having a very good time and had no trouble attracting attention during a visit to Senor Frogs. Looks like they've had enough time to get over all the drama and fighting from inside the house this summer!
click images to see full-size
There was no sign of GM or Aaryn, Kaitlin's close allies inside the house, though GM tweeted Kaitlin she wanted to visit and Aaryn seems to be busy with her new boyfriend. Jessie's fans looking to see more of her can help her with a Toys for Tots fundraiser.