Vanessa Rousso was ousted from the Big Brother 17 house in a major upset during the season finale last night when Steve Moses beat her out in a narrowly won competition and wisely sent her to the Jury before she had the chance to beat him there.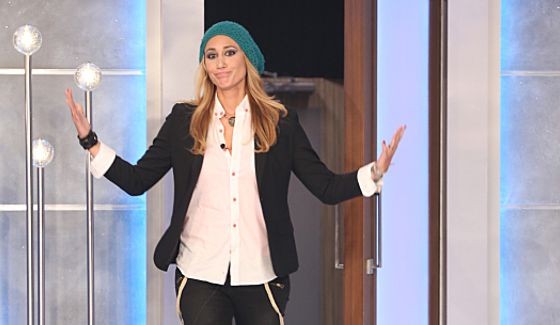 Arriving in Jury Vanessa surprised Steve with a vote against him as she explained to us today in our interview. Find out why she says she voted for Liz and why that season long emotional strategy might not have been strategy after all.
Big Brother Network: You decided to vote for Liz over Steve in F2 after he evicted you. Could you tell us about your decision and your comments when casting the vote?
Vanessa Rousso: I think I misspoke. What I meant to say was who would do a good job of representing out cast essentially. I thought Liz was a better representative.

I had a deal with Liz. Obviously I was banking on being one of the final two, not being a one of the ones in Jury. I knew I was fighting an uphill battle with the Jury and I needed votes so I made a deal with Liz that if either of us found ourselves in that third place situation, we would vote to keep the other one under the guise of we really want a woman to win this year. So that was our deal and I stuck to it.

It was sort of a toss-up in my mind. Strategically, obviously Steve played the better strategic game, but the reason it's a toss up, I sort of gauged them differently. I looked at it like if you had one barometer for what this person's expected strategic level and then how did they perform relative to that expectation.

Steve performed pretty well in line with my expectations, but Liz on the other hand far surpassed my expectation for how she should have performed not knowing much about the game. Not knowing much about Big Brother. She honestly at times floored me with how… I think people are really underestimating the level of strategic ability that girl really had. She was definitely on it strategically and caught on to the game very quickly so for that I gave her kudos. I stuck to my word on my deal and in the end that was it for the vote.
BBN: How did you decide to keep your deal with Liz over Steve?
Vanessa: This is an easy one. This one basically comes down to forgive, not forget. From the moment on 40, 41-ish when Steve and I formalized what was previously just a working twosome with SoS in to a formal F2 and shook on it, from that moment on I went on through the game to find out bombshell after bombshell of disloyalty from Steve.

Whether it was concurrent F2 deals with John and the Rockstars, to I get put on the Block as a renom and Steve knew in advance and didn't warn me, to I get put on the Block by Becky and Steve doesn't even promise me his vote until he sees that's the way the whole house is voting. To me that was tremendously disloyal from someone who was supposed to be my F2. He should have been the one guy I could count on for a vote.

Then from that he was part of the plan to target me just two weeks after that. Then he tried to essentially replace me in Scamper Squad with Johnny Mac. So it was bombshell after bombshell. Not to mention he broke his word to me when he gave me his word that he did not know there was a plan to backdoor me that week.

I can forgive and I'm a very forgiving person, but I didn't forget. The moral to that whole storyline is I didn't owe Steve anything in the game and that final two was just a mirage for both of us. I was very well aware that it was a mirage. I don't feel that I owed him any loyalties.

Liz on the other hand is the only person in the game that I feel I did owe some loyalty to. She took out two people that were gunning for me in the very moment and time that I needed those people gone in Becky and James. Beyond that she had never broken a deal or her word with me. With Austin out of the game I did feel I had her number on loyalty. Not to mention that I'm a big fan of a girl doing well in the game.

All those factors adding up are why I decided to go with Liz.
BBN: You mention feeling betrayed that Steve had another F2 deal, but would you admit you had a lot of them yourself? How did you feel unhappy about his multiple F2 deals but okay with your F2 deals?
Vanessa: The other F2 deals I had were all moot. By the time I formalized my other one with Steve, that was the only one I had. I had one with Austin, but he was in a showmance with a twin which meant not only was that no longer a F2, that wasn't even a F3. I was now number four on his totem pole. That was out the window. Beyond that I didn't have another F2 that I'm aware of.

I had briefly spoken to Julia that if the four of us got to F4 with Austin, Liz, and I that with Austin and Liz having primary loyalties to each other, if it came down to Julia choosing between myself or Austin, I made an agreement that she would choose me over Austin and I would choose her over her sister, if it ever came down to it. That's not really a F2, that's kinda like a very specific deal. Beyond that, my F2 Steve was the only one I knew about.

It's important to keep things just vague enough that you can back out of it if you need to but just promising enough that you can front slide in to it if you need to. That's part of the way I played that game which is a necessary way to play the game. You want to protect yourself for as many possible scenarios as could turn out but while not closing off too many potential options as well.