Welcome to premiere week for Big Brother 19! The 2017 summer season kicks off this Wednesday night at 8/7c on CBS for a two-hour debut event in the first of two nights of Big Brother fun. Get ready for the new season filled with fresh faces and twists waiting inside the house.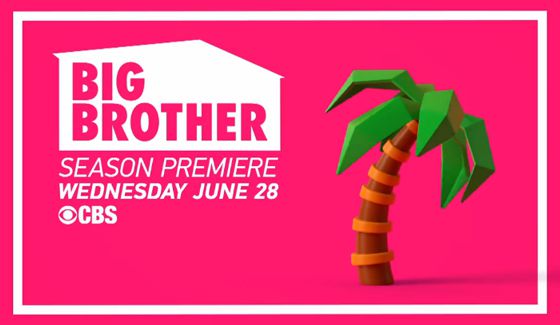 Sixteen Houseguests have been revealed and they're all new players to Big Brother, but will it stay that way or is there a twist ahead with more familiar faces? There are so many rumors out there, but we may not know for sure until this week is over so let's get ready to see what happens next.
During the season premiere on Wednesday we will watch the Houseguests head inside and scramble for a bed of their own before it's time to raise a glass and toast the start of BB19. That'll be right about the time we can expect Julie Chen to come on the screen to welcome the HGs and shake things up.
Then with two hours to fill that first night I'm definitely planning for the first Head of Household competition to play out as someone needs to take charge and name our first nominees. After that happens it may not be long before we get some action as spoilers suggest our first eviction of Big Brother 19 will arrive this Thursday night. Yikes. Someone won't be staying in this beautiful house for too long.
Whatever happens in the Thursday episode will be our starting point for the Big Brother Live Feeds this season. Once the west coast episode ends on that second night the Feeds go live so be ready to watch at 10 PM PT (1 AM ET). Grab your Free Trial now so you can start watching on All Access as soon as the cameras kick on that night and you'll help support the site here when you use our links. Thank you in advance!

Try Live Feeds 1 Week Free! Only $5.99 per month thereafter. Sign-up now.
If you're holding out for After Dark then that's back on Pop TV this season (Slice in Canada) and it should be arriving at the same time as the Big Brother Feeds. You won't have to pay extra for BBAD, so that's a bonus, but you're much more limited there than with the Feeds so you've been warned.
We'll hit our Big Brother 19 schedule stride after that with Sunday's episode at 8/7c, featuring the Den of Temptation as this season's main twist, before we're back around to Wednesdays at 8/7c and Thursdays at 9/8c. That'll keep us busy until mid-September unless there's a BBOTT2 to keep things rolling, but no word on that yet.
Want more BB19? Download our Big Brother App, join us on Facebook & Twitter, and get our Email Updates to stay connected to our results and spoilers all summer long.
Big Brother 19 Season Premiere Preview:
https://youtu.be/qW9baxY3hBQ