Nicole Franzel was crowned the winner of Big Brother 18 this week after defeating Paul during the season finale on CBS. Now outside the house following her second visit to the game I had the chance to talk with Nicole about her win, choices she made, what's going on with Corey, and more.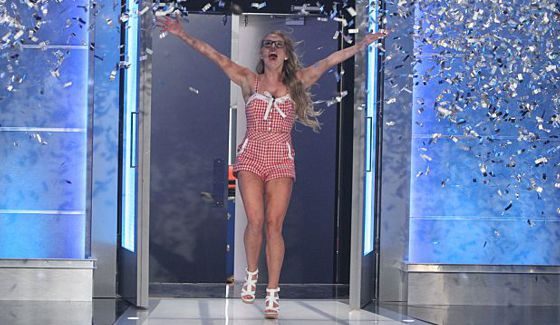 The vote was narrow, but one more vote than your opponent is all it takes and the half-million dollars is your on Big Brother. This was not only a big win for Nicole but also for the series as she became the first woman to defeat a male opponent in the F2. So how did Nicole win Big Brother? We asked her that very question.
Big Brother Network (BBN): You asked at the end of the finale "How did I win??" How do you think you won?
Nicole Franzel: I don't know what put my game a little over the edge against Paul besides, um. I just played super strategic this season. It was a bit secretive and sneaky and I think people kind of caught on to that.
I mean I only sat on the Block once and it was the very last week when I kinda had to. So to be a target on Day 1 and be called out the most in the entire house and avoid the Block like that and come out and win when I needed to. I think people appreciated that. I'm happy that they saw my game moves. I think I definitely aligned with the right people at the right time.
I think Paul played a great game. It feels great to beat someone I that I consider to be so great.
BBN: Which Jury vote surprised you the most?
Nicole: I was very surprised by Da'Vonne's vote and that it was last. I thought Paul had Day's vote for sure. That was the one that seemed to matter the most and I can't believe that I saw my name on that key. I was literally in shock.
BBN: If Paul had evicted you after Round 3 and taken James then how would you have voted?
Nicole: Oh I would have voted for Paul. Paul played a great game. There's no denying that. There's no bitterness. There's nothing worse than a bitter Jury and so I would never vote bitter out of those two.
Paul would never have to elaborate his game to me. I know what he did. He worked hard. I saw who cared, who didn't, and who was working hard. You want to see someone win who worked hard. My vote would have easily gone to Paul.
BBN: You promised Paul you'd take him to F2 then we heard you whisper your plans to evict Paul and take James. Did Paul's threat to lose his vote if you blindsided him change your plans?
Nicole: No, my guilt and feelings changed my plans. I was in the DR crying and talking myself in and out of things a lot of times. I think that him and I had such a great bond changed my mind. [Paul] deserves to be taken [to F2]. I hadn't made an emotional decision all season and I knew strategically it'd be better to sit next to James so that's why I was fighting.
I thought if I know I can beat James then I should take him. That's a $500,000 mistake, but my heart wants to take Paul. I hadn't listened to my heart the entire game playing nothing but strategically this whole time. Without Corey I started to play emotional.
I realized I could live with myself better if I took Paul. If I lost to Paul that's fine. He played a great game. That's what it came down to.
BBN: You said you stayed in bed to avoid relationships and possible backstabs like you experienced in your last season. Were you ever worried that would hurt your chances, though clearly it didn't in the end.
Nicole: No. I read an article before I went in the house that people vote for who they like regardless of game play. But I definitely don't think it hurt my game play because the fact that Corey had such a great social game is why he got voted out over me. The fact that no one wanted to sit next to Corey in F2 is what saved my game. Also that Paul was afraid the Jury liked James so much that Paul wanted to take me. That saved my game.
The fact that I didn't have a great social game was something I used to my advantage. It was in people's minds that I couldn't get Michelle's vote and it'd be hard for me to get votes. I would hammer that in to people's minds all the time. It was the theme of my season and I just kept rolling with it figuring if I could at least get a shot to speak and show how strategic I had been, but if you don't get to speak then you don't even have a chance.
Our interview with Nicole continues on the next page…