Big Brother's Team America has its latest mission and just hours after voting closed it's already causing waves, but this time the problems are arising from within Team America as one member wants to reject the task.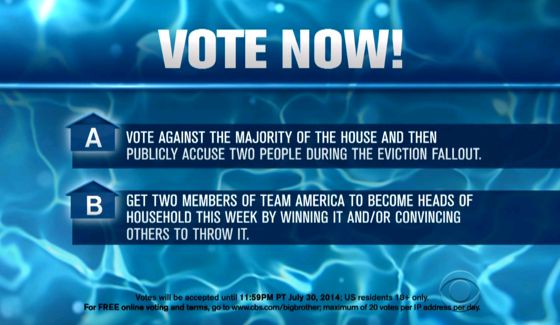 Viewers had a choice between making Donny & Derrick vote against the majority (that'd be to vote to keep Amber) or get Team America to convince the house to throw the HoH to them and secure both seats of power. So which mission did viewers select?
Flashback on your Live Feeds to 1:27AM BBT 7/31 Cams 1/2 to find Derrick and Frankie discussing their new assignment: vote against the house & blame others. Obviously Frankie can't vote so that part will be just Donny & Derrick, but all three are said to be required to participate in the accusations from the time the vote ends until the start of the HoH competition.
Frankie's immediate reaction? Sit down because you'll be shocked. Blame Zach! Good grief. This is exactly why I suggested we vote for Mission B. Frankie's standard approach on these is "blame Zach & write me a check for another $5K." It's ridiculous.
Derrick goes to wake up Donny and give him the details. Flashback to 1:33 AM BBT to watch this play out. Donny gives a funny "What The?!" reaction as he was sound asleep. Once Derrick gives the details Donny's immediate response is that they should decline it. Donny thinks it's bad for their game and he came to play his own, not America's.
Donny heads in to the DR to get the official details while Derrick and Frankie discuss the situation. Frankie isn't going to take "no" for answer and says this is an easy mission. Derrick agrees and says they can accuse Zach and Caleb. Frankie suggests Donny doesn't even have to participate in the yelling.
Jump to 2:10 AM BBT as Donny joins Derrick and Frankie in the HoH room. Donny says their meeting at 2AM is going to be obvious and he didn't come across the country to have his game messed up. He still wants to decline it. Donny says the HGs are too smart for them not to notice and it's too out of character for Donny to start accusing HGs like the mission requires.
Donny says it's too risky to put their games in jeopardy over greed and $5K. He concedes though saying if both Frankie and Derrick want to do it then he will.
One more conversation between Derrick and Frankie at 3:57AM BBT. Frankie wants to get rid of Donny over his desire to reject the mission. Uh oh. He says to decline the mission for now, get rid of Donny, and then do the rest of the missions on their own. Huh what? That seems rash, but I'm guessing it's more likely Frankie is just using this as an opportunity to once again target an ally.
Here's the wobbly point for me. In the first week Derrick and Donny did all the work to get the mission to pass. Frankie abstained and said it was so they could rotate through the participants without raising attention to it always being the same three HGs causing trouble. Now it seems they must all participate in the accusations. If it was okay to do partial participation in the first mission then why can't they do that now?
Just let Donny do the voting and then Frankie cover his part of the yelling. It's not like Frankie can vote and production knew that when they set up the vote so what's the issue with two of them each doing one half? Sheesh.
What do you think of this whole mess? Should they just go ahead with it and hope it all blows over quickly or is Donny right to decline the mission? We'll learn more about their decision when Team America is back up and talking today, but with so many group lockdowns it won't be easy for them to openly communicate so we may not hear much.
Update: Before the Feeds went off earlier today (as they do every eviction day for rehearsals, etc.), Donny and Derrick spoke about the decision they needed to make. Flashback to 10:55AM BBT Cams 3/4. Donny is still pressing to skip the mission and Derrick agrees. Donny think it's putting too big a target on them while Derrick says if there were a Double Eviction then it could put them in the hot seat at a crazy time.
Derrick agrees that they won't do the mission. Of course this could be method of Derrick's where we've seen him agree in the past and then wait to reapply the pressure later when the HG's guard is down after having felt they had already won the debate. We'll have to keep watching and see when the Feeds return later.