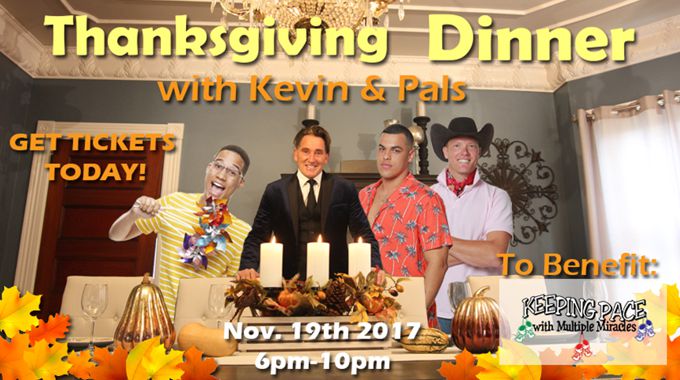 Big Brother 19 Houseguest Kevin Schlehuber is making good on his promise to host his friends for a big Thanksgiving feast and he's doing it in grand fashion. Best of all, fans are invited too. Okay, even better than best of all, it's a charity event to support Keeping Pace With Multiple Miracles.
This Sunday, November 19th, you can join Kevin along with Big Brother Houseguests Ramses Soto, Josh Martinez, Jason Dent, and Michelle Costa in Bridgewater, Massachusetts for a full-blown Thanksgiving celebration. There'll be a sit-down dinner, DJ, raffle auction, drinks, and mingling with former Houseguests and Big Brother fans alike. Grab your tickets, support charity, and have some fun!
twitter-tweet" data-lang="en">

Kevin's Thanksgiving is finally here!! I've Invited some very special guests, YOU included! Buy your tickets today: https://t.co/lJfMuYSBhB pic.twitter.com/GaD08LXkPL

— Kevin Schlehuber (@BB19KEVIN) November 7, 2017
Tickets are on sale until Friday, November 17th and they cost $75/person and that'll get you in the door for the 6PM ET event. Kevin wants to remind everyone, no surprise here, that this will be a "dress to impress" event so come prepared and know that your sock game will be challenged.
As for the event's beneficiary, KPMM, their website describes their efforts:
Keeping Pace with Multiple Miracles is a state-wide non-profit support network for families and families-to-be of multiple birth children. Our Center of Operations is located in West Bridgewater, Massachusetts. Volunteerism is the cornerstone of our foundation with a 'pay it forward' philosophy allowing our mission to steadily expand and meet the needs of our growing membership.
While Paul Abrahamian was included in the original announcement (see the Tweeted image above) his is no longer mentioned on the event's registration page. Not sure what happened there, but it doesn't look like Paul will be at the event, or at least not advertised to be there.
Can't make it up to Bridgewater this weekend but still want to show your support? They're accepting donations online through the event page as well (scroll down to below the tickets section).
This sounds like it'll be a lot of fun and we applaud Kevin for making good on his promise to host a turkey day event, invite the fans, and make it about supporting a good cause all at the same time. It's a class act yet again by Kevin. Can't wait to see all the pictures!