Following his close ally Meg out the door James Huling became the second victim of Thursday's Double Eviction episode as his game ended and was sent off to Jury.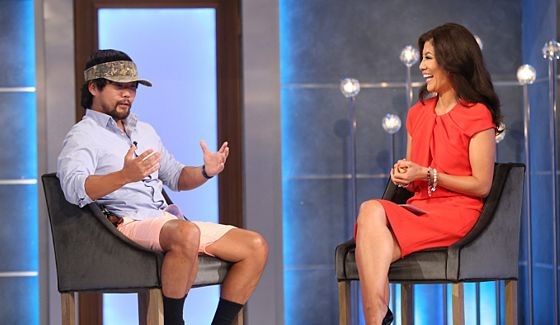 Now outside of the house we had a chance to talk with James about his game that was both well accomplished and entertaining, but we wanted to know more about some of those choices he made along the way. Did Meg ever distract him from the game in his decisions, why he went after Shelli instead of Vanessa, and who he wants to see at the end.
Which HG do you think you most underestimated and how?
James Huling: I have underestimated Liz. She won HOH's when she needed too and she is the one who sealed my fate. I was so worried that Steve or Vanessa would have taken me out.
Why did you decide to try and flip Austin with Operation Trojan Horse instead of Steve this week?
James: Austin knew he had a big target going in to this weeks HOH and I was trying to come up with a plan that had minimal risk for him that we would have make some big moves in this game and gained more respect in the BB community by playing the game.
Were you distracted by Meg to the point of following her lead even in questionable game decisions that may have hurt your game?
James: I'm really not good at public speaking so I always let Meg do the talking – she was a lot better at it then I was and all I did was back her up when questions needed to be answered on both sides. The only thing that hurt me with Meg was that she couldn't win competitions.
Did you decide to target Shelli over Vanessa during Becky's HoH to fulfil your HoH's goal from the week before?
James: Yes. Shelli was a very dangerous threat to my game because it was so fresh that I had just sent her man out the door to where she got mad that I wore a sweater that he left behind. She went in a room and took it back like a kid. That is when I knew, Shelli had to go next.
You received warnings about Vanessa, Austin, and the twins through the season, like Steve's "Strong Fortress" comment and Audrey's plea, but seemed to discount them each time. Why were you not more worried about those HGs possibly working together?
James: I knew they were working together I just didn't know how strong of a bond Vanessa had with Austin. I definitely felt like Vanessa was going to make a big game move but instead she threw me and Meg up.
How did your strategy going in to the game stand up with how you ended up having to play?
James: Everything was dead on.
What is the biggest mystery you're anxious to have answered once Big Brother 17 is over?
James: Why couldn't me and Clay be a Texas duo come together and trust each other. We are both from Texas. Killing me.
Now that your alliance is out of the game, who do you hope to see in the F2?
James: Johnny Mac and Vanessa.
Check out our preseason interview with James to see how it all started: