Jace Agolli became the first member of the Big Brother 17 cast to be evicted from the house on Thursday when his strategy came up short and the votes just couldn't be found. Now outside of the house Jace tells us what went on in the game and what really went wrong.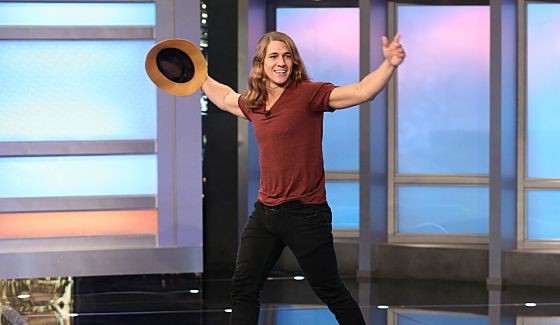 It's tough to be the first evictee and even harder for us to get a good feel of what went wrong when we've missed the first week of events, but we aren't alone. When asked what went wrong those initial days that we missed Jace seemed just as lost for an answer, but had lots more to share.
But before we got to the "what went wrong?" question Jace and I kicked off our talk with "what went right?" As for his best moves in the house "never giving up," said Jace. He admits he "didn't have the best strategy at the end and never had anything solid but as you noticed, I tried everything." There's no denying that. Jace had some low moments there in his flailing for votes, but you can't say he gave up and rolled over.
Now for the mistakes Jace made along the way, we wanted to know what did we miss in that first week. When the Feeds turned on it was already obvious that Jace was high on the hit list of targets so something must have happened, right? "Everything you guys missed, I missed!" joked Jace.
"From what I understand, they weren't doing it because they didn't like me. It was really because they thought I was playing a strong social game and I came in really heavy in the first HoH," explains Jace. "You really didn't miss much in the first few days though. I made the alliances that I thought were going to hold strong, but everyone was lying to my face. I was falling for it because I'm a very loyal, trusting type of person."
So what about perhaps his lowest moment? I asked Jace to explain his rough interrogation of Steve that was incredibly uncomfortable to watch even from the comfort of our Live Feeds. "I just want everybody to know that I do not condone bullying in any way shape or form," explains Jace. "I'll tell you exactly what was going through my mind. Donnie Brasco, Al Pacino, GoodFellas, The Godfather. Any moment where you see them have to intimidate or show strength. I do regret how hash some of my words came off especially because I really do like Steve."
Jace went on to explain that he had just discovered that Steve was aware of his Backdoor status. He wanted to "speak to him in a manner in which he would not run to the other side of the house and I could also count on his vote." Jace says he put on his acting skills and went to work but promises it was "all acting" and he wants to remain good friends with Steve.
Talk about acting, what about that Twin Twist? Did Jace suspect anything funny since he was one of Liz, or make that Liz and Julia, closest allies in the house?
"The last week I thought she was acting very weird toward me, but I thought that was potentially because of my situation," said Jace. "I had noticed some differences between the twins, but I was confused by it. Knowing there was a twin twist before I don't know why I didn't think of it!"
Jace might be out of the running to win Big Brother 17, but there are sixteen other Houseguests left with a chance. Who does he think could win it all? "Without a doubt Vanessa Rousso has this game in the bag," declared Jace.
As for his Top 4 wishlist of winners, no surprise here. Jace names Austin, Liz/Julia, Steve, and Vanessa as who he'd be happy to see win the game. These were his closest allies and supporters in the game so those names shouldn't shock anyone.
Jace fully plans to watch the rest of Big Brother 17, but maybe not just yet. "I've actually been kind of a little wimp when it comes to watching," said Jace. "It's very hard. You get kicked out of there and you see your friends having a good time and you're not in the game anymore, it really hurts." He's still in his "grieving stage" but we can expect him back in on the Big Brother fun from out here before too long.
Big plans for Jace after his stint in the Big Brother house. "I'm working on a lot of music right now. My artist name is Nikola Poe. We're just going to be putting out great content and I'm excited to have all these new supporters." Jace promises to "never stop exploring. That's my life motto."
Jace's fans can find him on Twitter @NikolasPoe where you can find more links and info for how to follow him on his next big adventure.
Watch our original preseason interview with Jace Agolli: