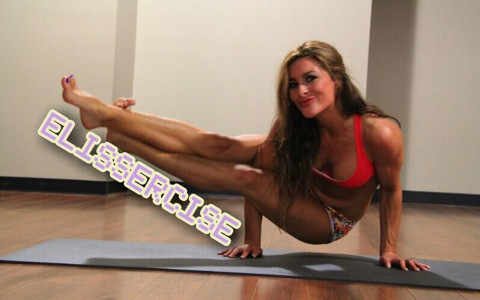 Elissa Slater took home the MVP prize on Big Brother 15 as the fans' favorite HG this past season so we figured you might be interested in reading what she's been up to since she left the Big Brother house. Lucky for us, Elissa was excited to chat with us and share details on what's going on in her life and her Elissercise program.
Read on to find out what's got Elissa excited, what projects she's working on now, and if you could ever hope to see her back in the Big Brother game!
Big Brother Network: What was the first piece of freedom you enjoyed when you finally got out of Big Brother and the Jury House?
Elissa Slater: The first piece of freedom I enjoyed was cuddling with my husband and talking to my son! I was so excited to use my phone and talk to my family, I could not stand it! I also read any and everything that was put in front of my face, not being able stimulate your mind by reading while in the Big Brother house really makes you feel totally uninformed with reality.
BBN: What's been your favorite memory of BB15 that you took away with you?
Elissa: My favorite memory of Big Brother 15 is definitely the competitions!! I had ABSOLUTELY no idea how difficult the comps were so experiencing them first hand is very magical. The first HOH competition, I was like "OHHH MYY I am really on Big Brother." I was in awe!
BBN: What surprised you the most to learn when you got out of the game?
Elissa: How much support I got! I was overwhelmed with the amazing people I have had the pleasure to meet through the BB experience.
BBN: Which HGs have you stayed in contact with since the season ended?
Elissa: Helen, Candice, and I are seriously BEST FRIENDS, Jessie as well! We all love and support each other! Judd and I are pretty close as well!
BBN: What have you been up to over the past few months?
Elissa: The past few months I have been working on my website Elissercise.com. I have been playing catch up with my clients that I make custom fitness and nutrition plans for!
click images to see full-size view
I opened my online Elissercise store "We're Obsessed"! I am currently selling all sterling silver quality pieces of jewelry. I am adding an upcoming Valentines line so stay tuned! Each of my pieces have been created for my personality! I also created my own facial brush called the Elissercise XO brush! The brush is REALLY amazing, and I recommend everyone to use one! I have created a few shirts with my slogans from Big Brother! I have one long sleeve that says "I'm Obsessed", "No One Comes Between Me and My Man", "MMMMMM….Bitter" also tanks that say "I'm Obsessed" and "No One Comes Between Me and My Man"! There is also a men's shirt.
I am still in the process of creating yoga clothes to sell! The yoga clothes are much tricker to design because I want to use the best fabrics that my customers can wear over and over and still look great! So everyone keep checking back Elissercise.com/store for all the updates! Most importantly I give back 10% of all my proceeds to charity! I also have a page in my store where all the profits from items I sell go 100% to charity!
Right now I am raising funds for Reality Rally, which is an amazing charity function where all the donations raised go to Michelle's Place to help Breast Cancer Research!
Follow me on Twitter @elissareillys & Instagram @elissercise for my project updates!
BBN: Where can your fans look to find you next?
Elissa: Look for my yoga apparel line as well as hopefully a yoga DVD I can distribute! I have other exciting projects in the works I can't wait to share with everyone!
BBN: If CBS called and asked you back for an All-Stars season, would you do Big Brother again?
Elissa: Totally depends on the concept! My sister would definitely have to be part of it!
BBN: Thanks, Elissa. Good luck with all your projects and maybe we'll see you again in the house!
So there you have it. Elissa is hard at work on her Elissercise program, building up her online store, and hanging out with her BB15 friends like we've seen in photos she's released. I don't think anyone would be surprised to hear that Elissa would come back but only as a package deal with her sister Rachel. Now that could get crazy!
Be sure to visit Elissa's website and follow her online to see what she does next!