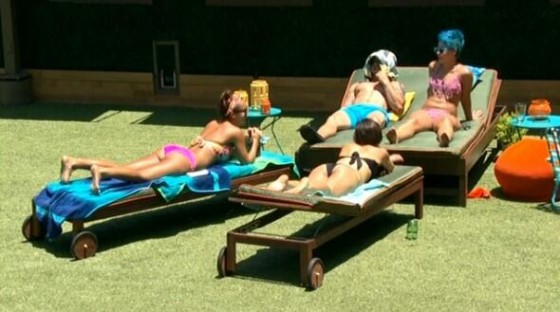 It was a lazy day in the Big Brother 16 house, basically the only things stirring were Caleb's and Joey's delusions. Caleb thinks he's going to win every competition this entire season and Joey thinks she has a shot at staying over Paola this week.
Find out what else happened on the Big Brother Feeds so far today in the house.
Big Brother 16 Live Feed Highlights – Wednesday, July 2, 2014:
9:45 AM BBT – HGs get their wake up music. Some quickly head outside to start grabbing some sun.

11:10 AM BBT – Nicole asks Frankie about his sister. He's still keeping the secret who she is.

11:15 AM BBT – Frankie is pretending to be Julie Chen, interviewing the other HGs.

12:02 PM BBT – Have-Nots are anxious to get to eat real food.

12:05 PM BBT – HGs now talking about their dreams.

12:19 PM BBT – Jocasta and Donny are talking about the game and who they'd put up if they were HOH. They plan to nominate people who do poorly in the competitions.

12:44 PM BBT – Nicole is flirting with Cody. She tells him that he's hot enough to be an actor and after Big Brother he might be.

1:30 PM BBT – Frankie gives Devin a facial.

1:45 PM BBT – Brittany tells Joey that if she knows she's going home, she's going to reveal everything she knows about everyone.

2:00 PM BBT – Frankie and Caleb are in the HOH room talking about how Caleb is going to win all competitions. Frankie also says his sister is in Los Angeles now and Caleb asks if she'll be going to the live show this week.

2:08 PM BBT – Joey tells Brittany she still feels it's possible for her to stay this week.

2:23 PM BBT – Victoria and Amber are basically laughing at the thought of Joey thinking she has a chance to stay.

2:24 PM BBT – Joey telling people to not be afraid to vote against Caleb or he'll rule them the entire game.

2:26 PM BBT – Indoor lockdown. HGs talking about tomorrow's HOH being an endurance competition since they're already on lockdown.

3:01 PM BBT – Now BB has called an outdoor lockdown.

3:05 PM BBT – HGs are grabbing food, water and pillows and heading outside. Caleb says they said it should be an hour.
So despite what Joey thinks, she should be heading home this week, according to almost every houseguest that isn't her. And since the inside lockdown lasted like a half hour, maybe the HGs will get over the idea that this week's HOH will be an endurance competition.
You can watch all of these Big Brother 16 events using the archives flashback, the DVR-like feature of this year's Live Feeds which means it's always live, even when you missed it! Sign-up now to get the free trial to watch it all live & uncensored.
click images to see full-size