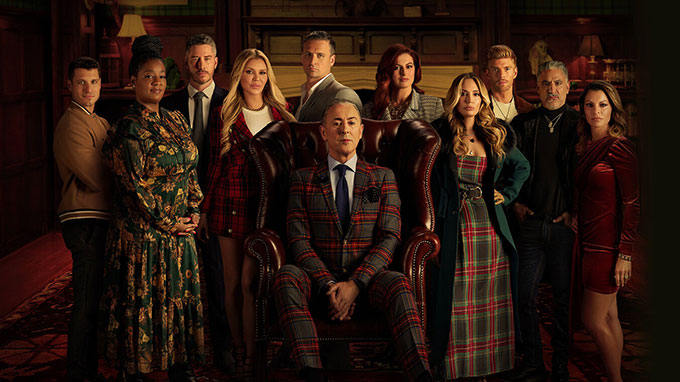 Big Brother stars Rachel Reilly and Cody Calafiore, along with Celebrity Big Brother stars Brandi Glanville and Ryan Lochte, made their Peacock debut this week when The Traitors premiered.
All 10 episodes of the reality show dropped, and so far we have seen the first two episodes. So how did the Big Brother stars do in those first two episodes? Let's discuss.
SPOILERS AHEAD
In case you are unaware of what The Traitors is, first let's give you a rundown.
In a gloomy castle deep in the remote Scottish Highlands, 20 contestants gather to compete for a huge cash prize in the new Peacock Original reality series The Traitors. The catch? Three contestants coined "the traitors" will devise a plan to steal the prize from the other contestants, coined "the faithful."

Based on the wildly popular Dutch series of the same name, The Traitors is hosted by the deliciously witty five-time Emmy nominee Alan Cumming. The larger-than life contestants — consisting of reality A-listers and America's best game players — must compete in a series of grueling and terrifying challenges to build that cash prize up to a potential $250,000. But the traitors are intent on stealing the prize, and in the dark of night they'll be picking off the faithful one by one. Meanwhile, the faithful must watch their fellow players' every move to try and reveal and banish the traitors from their midst. It's a race against time to see who will be left to claim the prize at the end of the game, and no one is safe.
OK, so in the first episode we got to meet the 20 players, and three traitors were selected. And Cody was one of the chosen traitors. He has been tasked with "murdering" one of his fellow players every night, along with Survivor's Cirie Fields and newcomer Christian De La Torre.
So Cody will definitely be the center of every episode unless he is found out and banished from the game. So far, in the first two episodes, all the Big Brother players are still in the game. Rachel does say that she is sure Cody is a traitor, though, so she has him figure out already.
Stay tuned for more updates.
Are you watching The Traitors on Peacock?