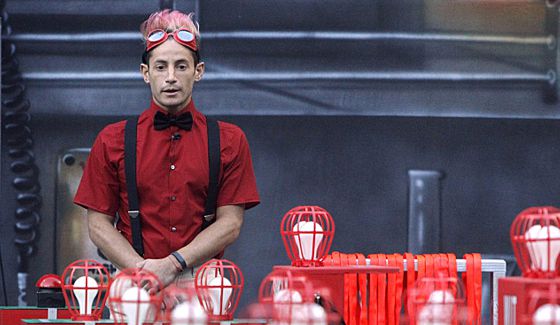 Frankie Grande was evicted from Big Brother last night after an impressive run of competition wins offset by an often over-the-top, seemingly constant "on" performance that left him as easily the most polarizing character on Big Brother 16. The Frankie I met in our preseason interview soon gave way to someone who seemed to be on a 90-day audition as he transitioned from one character to the next and eventually pushing his sister's fame so much even CBS referred to him simply as "Ariana's brother."
Frankie's role on Team America gave him the opportunity to raise funds for his charity as well as repeatedly put his one time close ally Zach in the danger zone. Certainly an interesting divide of behavior to watch this season which I'm sure managed to earn him plenty of fans as he leaves the game and returns to his life as a YouTube personality.
I had the chance to ask Frankie about some of his more notable moments in the season, but when it came to the topics of his choice words toward HGs like Jocasta, Victoria, and Nicole those questions did not make the cut. I imagine plenty of Big Brother fans will pose those questions to him soon enough.
Matthew Boyer – Big Brother Network (BBN): When we spoke preseason you were concerned someone would recognize you. Since that did not happen even with clues of your name and sister's name, why did you decide to reveal your sister's fame and did it help your game?
Frankie Grande: I had hit rock bottom and I knew that for me to continue on in this game, I had to do something drastic. The time I chose to reveal my true identity and who my family really is, was not only perfect but necessary. I ultimately went from going home, to one of the last men standing. So yes, I think it helped.
BBN: Your announcement that you were playing for charity is a great benefit for that organization and was certainly a surprise since you hadn't mentioned that in our interview. Did you have to improvise that plan to help your position in the game? Will you be donating your entire Big Brother earnings to the charity?
Frankie: I have always been playing this game for charity. And yes, all of my earnings will go to "buildON" to help build schools across the world for children who do not have access to education. I was reluctant to reveal that because I thought it would make me a big target. Like I always say, "Go Grande or Go Home," and I did both.
BBN: Zach seemed to be your closest ally, but you turned on him very early in the season pushing him as a target to others, using him as the fall guy for many of your Team America missions, and eventually even backdooring him. Why did you so quickly and repeatedly betray him and how do you think that helped your game?
Frankie: Unfortunately, Zach's unpredictability made him a huge liability to my game. There were no guarantees when it came to Zach and that terrified me. I honestly don't know if getting rid of him helped my game, but I know that keeping him would have hurt it.
BBN: After evicting your strongest supporter Zach, were you concerned to have to rely on Caleb knowing that he knew you had previously betrayed him as well?
Frankie: At first I was not concerned. However, as the season began to progress, it became more and more evident that would turn against me. Ultimately, I do regret having placed so much faith in him.
BBN: How did your participation in Team America impact your game play and strategy?
Frankie: Team America threw everything that I had in place prior to learning about it, into complete chaos and turmoil. I feel like I spent most of my game trying to protect Donny from my alliance when I should have been more concerned about protecting myself from my alliance. But at the same time, it was such a huge honor to be a part of it that I wouldn't have changed it for the world.
BBN: Knowing you were completely safe for the week when the Big Brother Rewind button arrived, why were you so eager to push it?
Frankie: Because it's Big Brother, Rose! When a button appears in Big Brother, there's absolutely no way it's NOT going to get pushed so why not be the first one to do it!
BBN: You were a competition dominator this season, but were you concerned that winning too many competitions especially unnecessary ones like the Freakshow PoV would make you a bigger target?
Frankie: I don't throw competitions. Although I was concerned, it did not affect the way I went into competitions. I play to win.
BBN: You adamantly presented yourself to HGs as a superfan, but then admitted conflicting details on that. Were you concerned the other HGs would treat you differently in the game if they didn't consider you a superfan?
Frankie: I guess my definition of "super" is different from everyone else's. I truly believed I am a super fan until this question. Thanks for that.
BBN: Who do you hope to see in the F2?
Frankie: Derrick and Victoria.
BBN: Thank you, Frankie. Congratulations on making it to F5. We will see you again on finale night.
Watch Frankie's preseason cast interview we held with him way back in June. Seems to me like a much different person at times during our conversation. See what you think.
Frankie Grande cast interview with Big Brother Network: