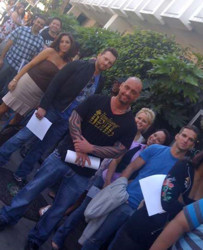 As the Big Brother 13 premiere approaches we're left with just one final week of casting. Three events remain across the southeast including Louisville on May 4th, Nashville on May 6th, and Charleston on May 7th. Full casting event details here. After that it's all down to careful reviews and cuts to make the very best BB13 cast.
Robyn Kass, Big Brother casting director, has made a series of announcements over the past few days starting with the application deadline being set for April 29th. So yes, that means there are no more paper applications being accepted and you're only chance is one of those last three auditions this week.
Robyn also had a message for those who already submitted an application or attended an event: don't call us, we'll call you. With thousands of applicants, it just isn't possible for them to call everyone so instead they'll only be able to contact those moving forward.
Kass made sure to squash rumors that the cast had already been selected for Big Brother 13. Not true at all, tweets Robyn:
Still meeting people and watching tapes until the end of May. No finalists will be chosen until then, good luck!
Inevitably we'll see claims from individuals who say they've been selected and will be in the house this season. First off, no one will be confirmed until the end of the month. Secondly, anyone lucky enough to be selected will also be informed that if they make any such announcement that they'll lose their chance at the half-million dollar prize. They are usually a lot of these bogus claims.
Best of luck to all the Big Brother 13 applicants out there. We can wait to see which of you make it, and once you're in be sure to mention us by name, a lot!