Da'Vonne Rogers became the first Jury member of Big Brother 18 on Thursday when she was evicted from the house in a 6-2 decision after former allies turned their back on a plan to get her out the door. Now on her way to the Jury house we had the chance to put a few questions to the Veteran player.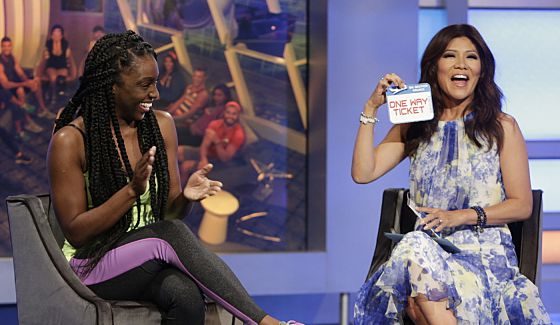 Chatting with Da'Vonne we wanted to know about those early decisions to go back on her alliances, who she thought was best positioned to win the season, and more. Read on to see what she had to say about her time in the Big Brother house this summer.
Big Brother Network (BBN): You were part of the Eight Pack & Fatal Five alliances before turning them inside out. Why did you initially turn on Frank and Tiffany?
Da'Vonne Rogers: When Frank blew up the 8-pack to Paulie without including Nicole, James and myself, I was done with Frank. I knew he couldn't be trusted because he was only watching out for himself.
Tiffany showed her emotional side and I knew that in order for me to control my emotional side I couldn't be attached to a person that emotional. I had to break away from her because I knew she was going to make me explode on her or she was going to explode my game, which she ended up doing.
Everyone called it, even before the fatal five was created… that she was going to be the person to blow up the 8-pack. People were just afraid of her that she would get emotional and tell everything and that is exactly what she did.
BBN: After your initial alliances fell apart you found yourself with a proposed alliance including two showmances, obviously not a good situation. What alliance were you originally planning to move over to instead of how it turned out?
Da'Vonne: Once the 8-pack and the fatal five fell through I knew being in the five person alliance with two showmances was definitely a no go! At that point I had to feel everyone out, be the lone ranger for a while and play a solo game. At the end of the day I never found a home.
BBN: Congratulations on your game lasting a lot longer this season. What do you credit with that extended success this time?
Da'Vonne: Being more observant and a little less vocal. Just a little. 100 percent I was more social. Last year, I was all about Jason, this year I knew if I had numbers I wasn't easily disposable. I guess that helped a little.
BBN: Who is playing the best game right now and can they win it all?
Da'Vonne: Paulie is playing the best game right now. He is very social and he wins competitions. I think the people in this house are afraid to take a shot at him. That is why it was a good idea to evict me because I wasn't afraid and wanted to get him out. If no one decides to take a swing at him he can definitely win this game with his eyes closed.
BBN: Thank you, Da'Vonne.
Check out our original interview with Da'Vonne when she was first a BB17 Houseguest: