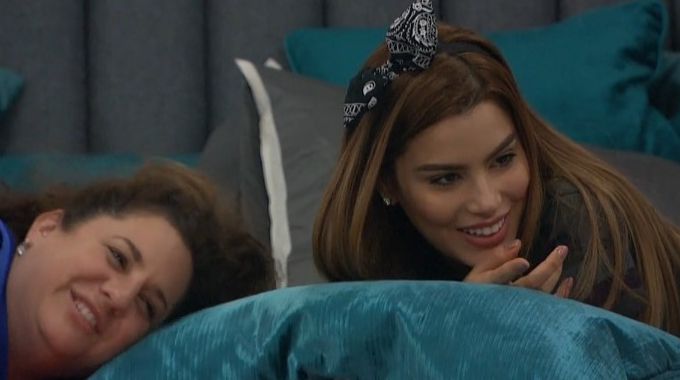 Nominations are coming up today for the Celebrity Big Brother HGs as nine celebs remain and the battle for control continues. After last night's eviction driven by tearful pleas, we should be back to targeting players hoping to stay in the game this round.
The new Head of Household was crowned overnight and the targets were quickly set though not everyone in the alliance of four was on the same page. But by the end of the night, things to have settled to the obvious choices and the noms should be ready to be revealed.
Ari and Brandi lit the fuse on targeting Shannon last round with their Backdoor plan but between Ross's worries and Keshia's pleas, the opportunity was abandoned. Not this time. Brandi and Ari agreed that Shannon should be the one to go this week, but if they couldn't get her then James would suffice.
At first, Ross wanted to try another BD plan for Shannon, but the ladies in his F4 with Ari, Brandi, and Marissa weren't in agreement. Flashback to 1:40 AM BBT last night on the Feeds as Marissa lets the women know what Ross suggested. After he arrives the group discusses their options. Brandi and Ari argue that by immediately nominating Shannon and James then they can be sure to have a shot to evict at least one of them in this round.
Shannon is the top target for Ari while James would be the alternative should Shannon win Veto this round or otherwise escape the Block. The group knows those two could end up fighting for each other if they aren't up together so it's the best way to make sure they're split.
Of course, this is Big Brother and you never know what wacky twist could pop up and thwart this plan, but the logic is good. It's always a risk that both could stay if they aren't on the Block together and they're doing the right thing with their best odds to split those two up.
When the results are revealed we can expect Ari to have nominated James and Shannon.
We'll have the spoilers as soon as things are confirmed on the Feeds. Download our Big Brother App, join us on Facebook & Twitter, and get our Email Updates for lots more Big Brother coverage.
Did you know you can get a Free Trial to check out the Live Feed in-house cameras for Big Brother? Watch any moment from the season both live and in the past with the Flashback feature.