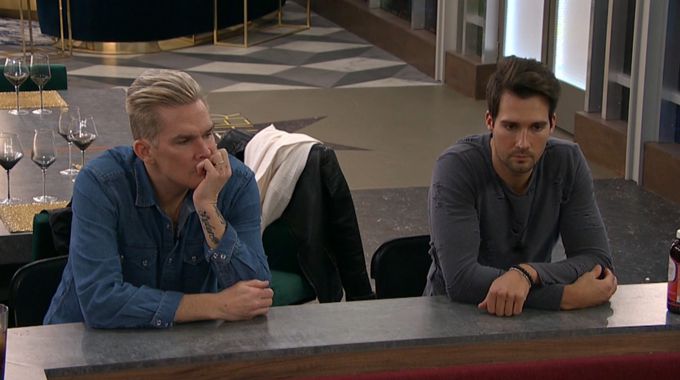 Another fast paced eviction night sent Keshia out the door and eventually, finally crowned a new Head of Household after another late night competition. The new HoH was quick to set plans and name targets as we roll in to the third round of Celebrity Big Brother.
Don't miss your chance to watch along with us. The season is just getting started and that'll run less than a month (check the schedule) so you can watch all the fun for less than $6.
If you've got the Live Feeds (Free Trial) then you can watch all of these moments with the Flashback feature to go back and watch those important conversations or funny scenes you may have missed.
Celebrity Big Brother Live Feed Highlights – Monday, February 12, 2018:
6:52 PM BBT – Feeds return from a long downtime following Monday's eviction show.

6:54 PM BBT – Mark and Shannon worry this Friday has to be a Double Eviction or else there will still be 9 HGs with only 9 days to go.

7:00 PM BBT – Shannon has been sitting alone in bed while most of the house is in the kitchen chatting.

7:05 PM BBT – Metta is napping alone in the Lounge.

7:15 PM BBT – HGs hanging around. No game talk for now.

7:25 PM BBT – Ross mentions he heard details preseason that there would be a Final 4 on finale night.

7:26 PM BBT – Marissa reveals the HGs are getting another $5,000 each time they survive another eviction.

7:40 PM BBT – Feeds cut for the HoH competition.

10:51 PM BBT – Feeds return.

10:53 PM BBT – HGs are all worked up in excitement. Brandi goes into the mint room and starts to dance in celebration with Ari. Ari is the new Head of Household.

10:55 PM BBT – Ari and Brandi tell Omarosa about the BD-Shannon plan from last week. They begin to discuss going after James and Shannon.

10:56 PM BBT – Ross, Mark, and Marissa discuss nominating Omarosa and Metta as pawns then Backdooring Shannon this round.

11:00 PM BBT – Ari has been coughing for several minutes. Marissa brings Ari her inhaler then she goes to the DR to get checked.

11:15 PM BBT – Metta is having a good time dancing in the shower and talking directly to the cameras.

11:40 PM BBT – HGs have been hanging out in the kitchen working on dinner. Ross is explaining his past TV experiences. Metta wants a talk show of his own now too. Omarosa explains the different buildings and sections of the White House layout.

11:54 PM BBT – Ari is back from the DR and doing just fine.

11:55 PM BBT – Metta is alone in the Storage room and celebrates Ari's win. He declares it's now personal and must strike this round.

1:20 AM BBT – Ari got her HoH room.

1:35 AM BBT – Brandi and Ross agree they have to get Shannon out this week in their second straight chance.

1:40 AM BBT – Brandi lets Marissa know that Ross suggested using Metta and Omarosa as pawns, but she thinks they need to take this opportunity now.

1:45 AM BBT – Ari, Brandi, Marissa, and Ross discuss nominations. They all agree that if they want to get out either James or Shannon then it'd be best to just go ahead and put both up. Shannon is their target, but if she wins Veto then they'll just vote out James instead.

1:50 AM BBT – The group celebrates their plans to be the F4. Ross doesn't see anything that could break them up.

2:00 AM BBT – Brandi warns Ari that Omarosa will be trying to cozy up with her now but says it's not that bad since she (Brandi) likes Omarosa more than Mark.

2:10 AM BBT – Brandi tells Ari that Ross wants to be next to a "mean" player in F2 so herself or Mark.

2:20 AM BBT – Metta camtalks while cooking that this is the hardest thing he's done and it's a struggle everyday, but he's trying hard.

2:30 AM BBT – Lights out for the HGs.
With Ari and Brandi running point this round I'd say their chances of getting either Shannon or James out the door will be pretty good. Neither seems to have the same concerns that held Ross back last round so we'll have to see if any new obstacles pop up in their path. Otherwise get ready to watch out for Ari's noms of Shannon and James on Tuesday.
You can watch all of these Big Brother events using the archives Flashback, the DVR-like feature of this year's Live Feeds which means it's always live, even when you missed it! Sign-up now to get the free trial to watch it all live & uncensored.

Gallery: Live Feeds Highlights