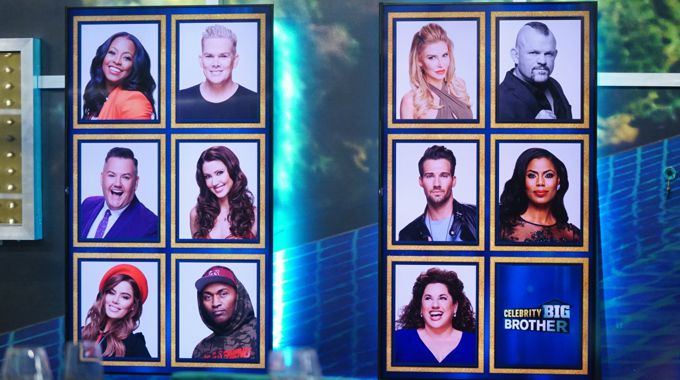 Who is going home tonight on Celebrity Big Brother? These waffling Houseguests are still trying to figure that out! Will they go with the Backdoor plan, evict the abrasive agitator, or yield to the Houseguest asking to be sent home? No, not Metta, the other one who wants to leave now.
We've got Keshia and Omarosa on the Block while Ross ponders the pitch from Brandi and Ari to send Shannon out the Backdoor. Ross actually likes this idea, well sometimes he does while other times he's terrified of what's involved. His fear here is that he'll upset James who turns around and comes after him for being disloyal, or even worse, Ross takes a swing at this and misses leaving Shannon in the house to seek revenge.
Ross has been going back and forth trying to decide whether or not it's too soon, but he does seem to know that Shannon is a huge threat to his chances of winning the game. There's plenty of support for Ross to make this move too. Brandi, Ari, Marissa, and Mark are all on board. That'd be enough votes for it to happen. Of course, they would first need Shannon up on the Block.
Marissa has promised Ross and Brandi that she'll use the Veto if she gets to play and wins it. Ross is afraid of getting HG's Choice and not picking Shannon so if he does draw that chip, which still hasn't happened yet for the players, then he'll probably screw this all up and pick her instead of James.
So what's going on with Keshia wanting to go home now? She told Brandi this morning that she'd help the group get Shannon out tonight, but then in return she wants to be the one to go on Friday. Keshia claims she's missing her baby and is ready to be home. Maybe she's telling the truth or maybe she's seen how effective it's been for Metta to make that claim and have HGs start to ignore his chances of winning. Okay, those chances are slim, but Keshia might think she could match that magic.
By the end of tonight's Celebrity Big Brother episode (the live show starts at 8/7c) we'll see one of these three Houseguests gone. If Shannon gets renom'd then she's gone. If no one gets swapped off the Block, well, I'd expect Omarosa to go since it seems like more HGs want Keshia to stay, but it's still very close. That one is nearly a toss-up.
There are seven votes tonight. Brandi wants Omarosa gone so I'd expect Ari to vote with her. Marissa and Ross want Keshia to stay, but Ross can't vote as HoH. That gives us three votes against Omarosa. Shannon wants Keshia gone so she'll be voting her out instead and James promised Omarosa that he'd vote against Keshia since she nom'd him.
That leaves us with Metta and Mark to decide tonight's vote. If they both go against Keshia then she's gone, but if just one splits to vote out Omarosa then she's gone. I like this uncertainty! Who do you think will be voted off Big Brother tonight? Share your eviction prediction below then join us back here tonight at 8/7c for the live Veto and Eviction show.
Update: Group discussions this afternoon has them agreeing to vote out Keshia if the noms stay the same tonight. We shall see. Shannon was in the room so this wouldn't have covered all possibilities for the group.