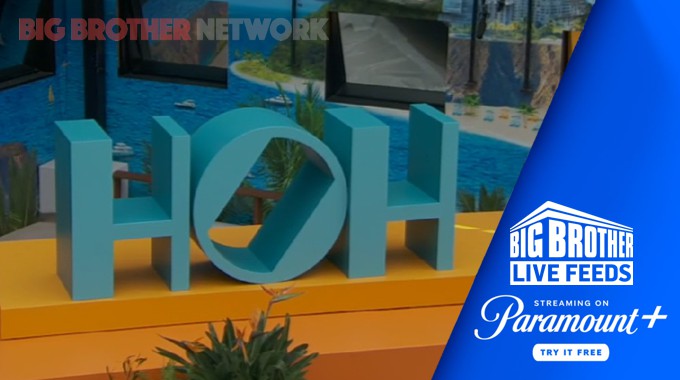 Friday's live eviction show concluded on Celebrity Big Brother with another eviction but without a Head of Household. It was soon time to fix that problem and they did it in grand fashion. Endurance Comp time! We've got your results and spoilers with live coverage of who won HOH last night for Round 4 as we head into the back half of the CBB3 season.
It's our first Live Feeds Endurance Comp of the Celebrity season and we'll be here with all the updates throughout the competition. Want to watch the Endurance HoH Comp? You will need your Big Brother Live Feeds through CBS's Paramount Plus. There's a free one-week trial that you can use to get started and watch with us.


HGs are facing off on The Wall which comes as little surprise these days. We'll be updating all the results and eliminations throughout the competition right here. I've also got our Twitter feed widget running below in case the site slows down. We'll have you covered in both places tonight for CBB3.
Now as we get ready, which Houseguest do you want to pull off the win? Miesha will have to watch from the sideline, otherwise, this could have been another win for her tally. Let's see what her closest ally Todrick can do to keep her safe this coming round.
Celebrity Big Brother 3 Round 4 HoH Comp – Endurance Battle:
6:50 PM BBT – The comps has begun!
6:55 PM BBT – All HGs are still hanging on
7:00 PM BBT – Waiting for the Feeds
7:10 PM BBT – STILL waiting for the Feeds
7:12 PM BBT – Feeds are back. All HGs still there.
7:15 PM BBT – Lamar drops. Cynthia follows.
7:16 PM BBT – Four remain: Carson, Shanna, Todrick, & Todd
7:20 PM BBT – Huge burst of paint on the HGs
7:25 PM BBT – Quiet group on the Wall
7:30 PM BBT – Carson is drying both hands, but not holding on at all
7:35 PM BBT – lots of cheers from the sidelines and quiet on the wall
7:40 PM BBT – Todd has been shouting about pain, but hangs on
7:44 PM BBT – Wall tilts very steep. Todd drops. 3 remain.
7:48 PM BBT – Shanna curses, her breathing picks up, and she drops.
7:50 PM BBT – Carson and Todrick remain.
7:55 PM BBT – Cheers from the sidelines. Quiet on The Wall.
7:56 PM BBT – Todrick's foot slips as the wall tilts. He quickly recovers. Carson immediately says, "I can make a deal." Todrick drops.
CARSON WINS HOH!
I would assume Carson promised Todrick safety in that moment. Doubt Todrick had time to negotiate for Miesha though. I expect Miesha to head to the Block unless Carson gambles on the BD route.
In case the site becomes overwhelmed I'm going to embed our Twitter feed here for more updates:
Tweets by @bigbrothernet
Download our Big Brother App then join us on Facebook & Twitter for the updates.