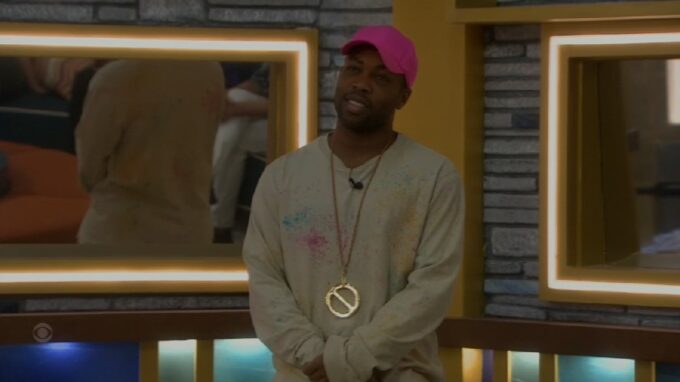 We are now into Round 5 of Celebrity Big Brother, so it's time once again to take a look at the gameplay of the CBB3 houseguests and figure out who should rank where. And after the display this past round, the rankings have definitely changed. Let's go.
Celebrity Big Brother 3 Power Rankings Round 5
1. Todrick. He finally moves up to the top spot after the move he pulled this past week to save Miesha and get Shanna up on the block and sent out the door. Todrick sloppily playing all sides at the start of the game kept him in the lower half of the rankings, but now that we know none of that matters, he moves up to the top, and rightfully so. It could be argued that his move was only successfully because of the gullibility of Carson and Cynthia, but regardless, it worked. And since Miesha is still a bigger target than him, then he is definitely playing a better game than her. Add in his recent veto win and he can't be beat in the rankings this week. Of course he has likely burned every jury vote so far, so it's not looking good for him to nab a win at the end, but this ranking is all about the now.
2. Miesha. It pains me to rank her so high, but the way she made Carson and Cynthia trust her every word over Shanna this week was impressive. And add that to her HOH wins, she's got a lot of power in this game. And I think if she gets to the end with Todrick she can surely beat him. But that's getting a bit ahead since again this ranking is all about this past round.
3. Lamar. The way Lamar has (or hasn't) played the game has been really intriguing. He has virtually no knowledge of the game, but also sees what's going on pretty clearly as far as who needs to go. Of course he hasn't had the power to help that happen, but there's potential there. And the fact that everyone is cool with him and he's never been a target despite being a pro athlete says a lot.
4. Todd. I never thought Todd would leave that last-place spot, but after this past week, it's clear he has a better hold of the game than some of the others. He has at least aligned himself with the right side of the house. It won't get him much farther than fourth or third, but hey, if you get that far anything is possible.
5. Carson. So Carson has topped the rankings for most of the season, and after his impressive endurance HOH win, I was sure he was going to sit comfortably at the top this week. But then he lost his marbles this round and nominated one of his TWO allies and sent her out the door. All because he believed every single word Todrick and Miesha said – the people who have been targeting him since literally day one. Make it make sense!
6. Cynthia. I think Cynthia has earned this last-place spot more than anyone has ever. It was really hard to watch her cluelessness this week. And I mean painfully hard. The way she just shut Shanna out and didn't even entertain the idea for ONE SECOND that Todrick and Miesha were just trying to save themselves was remarkable. Like I'm actually in awe that someone could be so out of touch with this game. Good job, Cynthia! You might be the worst BB player ever. And there have been some terrible, terrible players.
How would you rank the remaining Celebrity Big Brother houseguests?