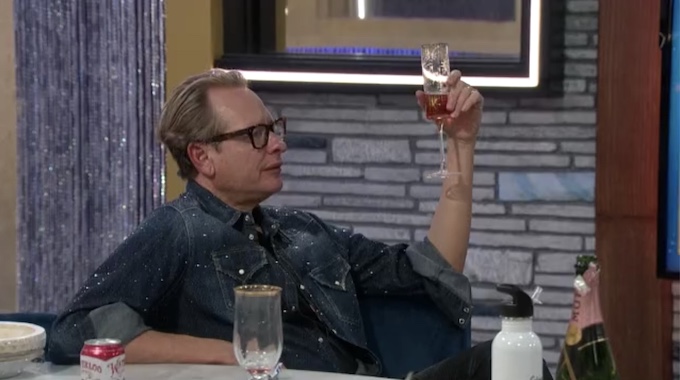 It has been a chaotic few days inside the Celebrity Big Brother 3 house with Todrick and Miesha working overtime to turn Cynthia and Carson against Shanna. Last night we watched as Shanna wasn't picked to participate in the Power of Veto which essentially sealed her fate inside the Celebrity Big Brother house. Now we have a new houseguest in charge and a new set of houseguests that should be worried about their future in this game. Read on to find out which two Celebrity Big Brother 2022 houseguests should be worried.
After Monday night's eviction sent Shanna out the doors of the Celebrity Big Brother house, Todd, Todrick, Lamar, Miesha, and Cynthia all competed in the Head of Household Competition. Todd went on to win the competition which made a lot of people wonder what could happen this week. However, that didn't last long, because Todd was quick to throw names out there during a conversation between him and another houseguest.
Todd was quick to talk to Miesha about what his plan was this week. Todd told Miesha last night that he knows that Carson has to go up and adds that he thinks Carson knows that too. Todd told her that if Carson then goes on to win the Veto, he will put Lamar up in his place and they can let Lamar go this round.
Todd then wonders who he should put up next to Carson and Miesha tells him that Cynthia should be the one to sit next to Carson. Miesha needed to make sure that Todrick wasn't an option and asked Todd right out if he would put Todrick on the block. Todd told her that he won't be looking at her or Todrick until they are in the F4 together.
It's no surprise that Miesha is using Todd to target Carson and Cynthia. Between Miesha and Todrick making a F4 with Carson and Cynthia and then Todrick using the Veto on Todd last night instead of Miesha, the road was all mapped out.
What do you think is the smartest move for Todd to make? Be on the lookout for confirmation a little later today after the Nomination Ceremony takes place.
Download our Big Brother App, join us on Facebook & Twitter, and get our Email Updates for more!