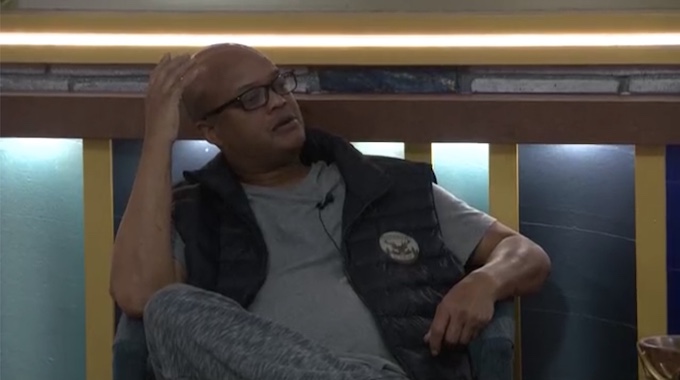 Update: Huge blow-up in the house this afternoon that turned Carson & Cynthia (or at least Cynthia) against Shanna. All orchestrated by Todrick & Miesha who have completely convinced the gullible Cynthia into their lies. It's so bad it's comical. Shanna is now public enemy #1 for the bulk of the house.
Nomination Ceremony appears to have been completed but Feeds came back so late the Memwall was back to regular pictures and no one has mentioned the results yet…
Friday night we said goodbye to another Celebrity Big Brother 3 houseguest and then crown another Head of Household. The Nomination Ceremony is going to take place inside the Celebrity Big Brother house sometime today, but we have a pretty good idea of who is going to end up on the block. Read on to find out which Celebrity Big Brother 2022 houseguests are in danger for round 4!
After Chris Kirkpatrick was evicted last night, the remaining houseguests went on to play in the endurance Head of Household. The houseguests dropped one by one until it was down to Carson and Todrick. Todrick was struggling on the wall and decided that he was going to make a deal with Carson in order to keep himself safe. He later admitted that he was going to fall whether Carson agreed to it or not.
Carson agreed that he wouldn't put Todrick on the block this round, but didn't promise not to put him up as a replacement nominee if one of his nominees came down. Carson told Cynthia that he didn't plan to put Todrick up in the first place so making that deal didn't change his plan for this round.
Throughout the night, Carson confirmed that he was going to put Miesha up as his target. He plans to tell her that it is because she is the biggest threat in the house, a line that she used on him both times she put him up. Carson also mentioned wanting to put Todd on the block for messing with Cynthia the other day after the Veto Ceremony.
Unless something big happens inside the house before the Nomination Ceremony takes place, I think it's safe to assume that Miesha and Todd will be on the block. I don't think that Carson would put Lamar on the block since Carson, Cynthia, and Shanna have been trying to get Lamar to work with them.
Do you think that Miesha and Todd are the best options for Carson? Make sure you come back and check out our Nomination Ceremony spoilers for confirmation later on!
Download our Big Brother App, join us on Facebook & Twitter, and get our Email Updates for more!