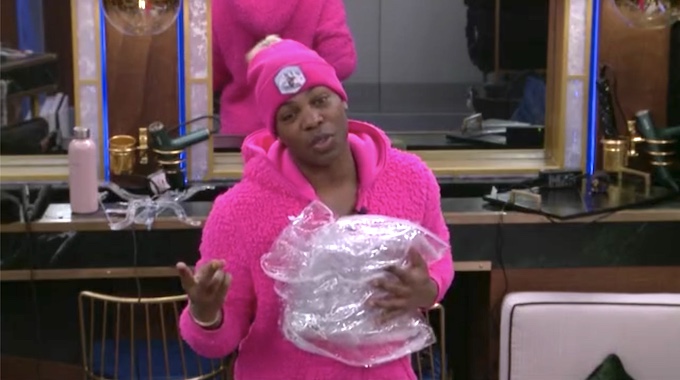 After saying goodbye to another Celebrity Big Brother houseguest on Monday night, we officially kicked off the next round of the competition! A new Head of Household was named and that means two Celebrity Big Brother houseguests will be put on the block at the Nomination Ceremony coming up on Tuesday. Read on to find out which Celebrity Big Brother 2022 houseguests are in danger of hitting the chopping block.
If you have been keeping up with the spoilers from the overnight feeds, you know that after we said goodbye to Mirai, Miesha went on to win the HOH competition. Miesha spent the better part of the last round trying to convince Chris Kirkpatrick to renominate Carson if Mirai or Chris Kattan came off the block. Kirkpatrick being pretty closely aligned with both Carson and Cynthia had no intentions of putting either of them on the block and risking one of them going home.
Miesha and Todrick also talked about how they were both frustrated with Kirkpatrick and him not listening to them when he was HOH. Now that Miesha is in the HOH, she will likely target Carson because she sees him as her biggest threat. The question is, who will she put on the block next to him. Kirkpatrick seems to think that Miesha will put Kattan on the block next to Carson. However, with Kattan pleading to go home last this might be too tempting for some.
Could she put Cynthia and Carson on the block to guarantee that the pair get split up? That would probably be the best way to go about it if she really wants to split up the duo. If one of them comes off the block after the Veto, Miesha will have to get strategic with her renom to make sure that there aren't enough votes to keep the other one in the house too. With her and Todrick's frustrations with Kirkpatrick growing by the day, do you think there is a chance that he could see the block this week?
Make sure you check back later for our Nomination Ceremony spoilers to find out!
Download our Big Brother App, join us on Facebook & Twitter, and get our Email Updates for more!