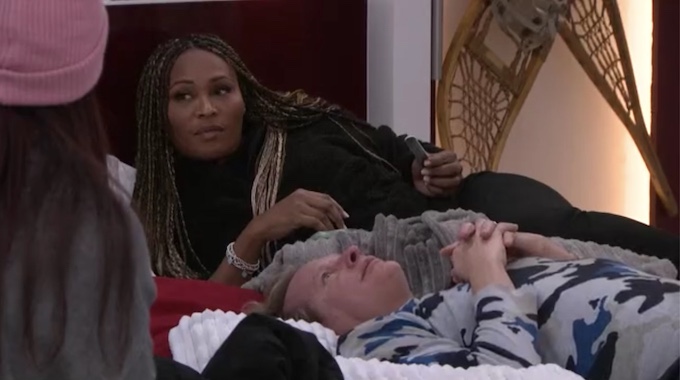 It is Power of Veto Day inside the Celebrity Big Brother 3 house and now that we are down to six houseguests, everyone will be playing. We have a new Head of Household in power, the Nomination Ceremony has taken place, and there is a clear target for Round 5 of Celebrity Big Brother. Read on to find out what the plan is and how that can change depending on the outcome of the Power of Veto Competition on Celebrity Big Brother 2022.
Todd is the Head of Household this round and he has nominated Carson and Lamar for eviction. He chose to keep Cynthia off the block, and while Miesha and Todrick were okay with this plan, logically it doesn't make sense for their game. If Todd, Todrick, or Miesha win the Power of Veto Competition, the plan will stay in place. Carson and Lamar will remain on the block and Carson will be voted out during Friday's live vote and eviction.
However, there is some potential for a real shake-up. If Lamar wins and takes himself off, Cynthia will go up in Carson's place. The same thing is true if Carson wins the Veto and saves himself. However, if Cynthia wins the Power of Veto, she will use it on Carson, and then Todd will be forced to put Todrick or Miesha on the block next to Lamar.
I wouldn't get too excited though because Carson and Cynthia don't seem to be worried about Todrick or Miesha in this game. They still think that they are aligned and that Miesha and Todrick have their back until F4. We would need Todrick and Miesha's game to be blown up for Cynthia and Carson to then vote one of them out over Lamar. Unless, of course, Lamar learns out to play the game in the next 24 hours.
Lamar has heard Miesha and Todrick talking about how they convinced Cynthia and Carson that Shanna was working against them and he has made comments about not wanting to compete against Miesha. However, he doesn't have much of a social game unless it involves poking fun at Todd and calling Todrick out on the ridiculous things he says. While he is putting bits and pieces together on how to play this game, it is a painfully slow process and it would surprise a lot of people if it happened before tomorrow's Veto Meeting.
Who do you want to see win the Veto today? Make sure you come back later for Power of Veto spoilers!
Download our Big Brother App, join us on Facebook & Twitter, and get our Email Updates for more!