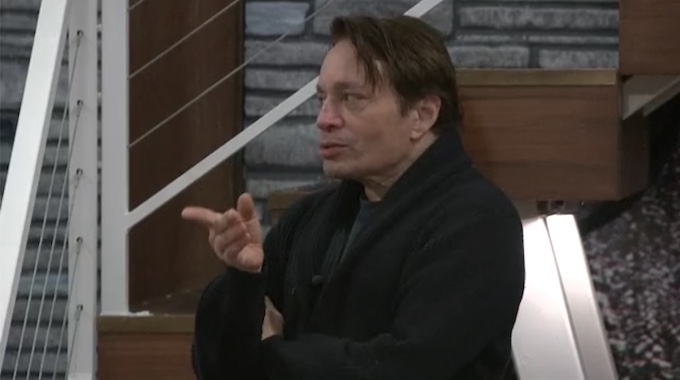 We have officially kicked off another round of Celebrity Big Brother with a new Head of Household and two nominees on the block. While we don't know when the Power of Veto will be, however, we have a pretty good idea of what could happen depending on which Celebrity Big Brother 3 houseguest wins. Read on to find out what the Power of Veto plans are for round 3 of Celebrity Big Brother 2022!
Monday night Miesha was crowned the Head of Household for the second time this season. As we all expected, she went on to nominate Carson and Cynthia for eviction with Carson being her target. For a while, Carson and Shanna were convinced that if he came off the block, then Cynthia would be sent home, however, Cynthia knows that she isn't the target if that should happen.
If Cynthia or Carson wins, they will obviously take themselves off the block, even though Carson has been talking about saving Cynthia and just letting them vote him out. Miesha will likely keep the nominations the same if she wins the Power of Veto. If Todrick, Todd, or Chris Kattan then the nominations will likely stay the same.
If Chris Kirkpatrick, Shanna, and maybe Lamar win the Power of Veto, they could take Carson off. Which would force Miesha to renom someone else. I only say maybe Lamar because he told Shanna that if he wins HOH, he would nominate Miesha and Todrick with Miesha being his target. He seems to be getting the hang of the game and if he plans to work with Kirkpatrick, Shanna, Carson, and Cynthia then they would have the numbers.
If a renom happens, it will likely be Kattan because he has been asking to go home. Miesha told Kattan that really needs to take a shot at Carson this week. She did add that they would see what happens after the Power of Veto competition plays out.
The Power of Veto will air on Friday night's episode, but there has been no word whether it will be pre-recorded or play out live on Friday.
Download our Big Brother App, join us on Facebook & Twitter, and get our Email Updates for more!