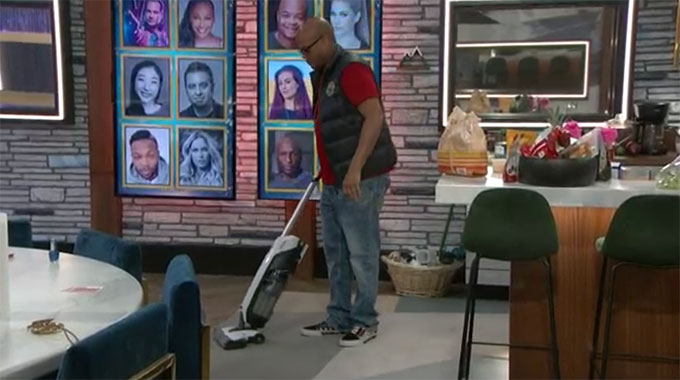 It was a really, really quiet and slow evening in the Celebrity Big Brother house. No one on the block won the veto, so there wasn't any talk of what will happen with the veto. So they all just kind of lurked around the house, chit-chatting, playing cards, and cleaning. It seems the celebrity houseguests are just getting really over being isolated.
If you've got the Live Feeds (Free Trial) then you can watch all of these moments with the Flashback feature to go back and watch those important conversations or funny scenes you may have missed.
Celebrity Big Brother 3 Live Feed Highlights – Wednesday, February 16, 2022:
3:08 PM BBT – Carson wonders if they're going to use the veto to take Lamar off the block and put Cynthia up. Cynthia says probably. Carson says he will still be voted out regardless. He tells Cynthia she is next after him unless she can win the HOH. He says if he does win HOH she better burn the house down.

3:30 PM BBT – Todd says he saw a large rat then feeds cut.

3:34 PM BBT – Lamar talks about how hard it is to be locked up in the Big Brother house. They're all very bored today.

3:46 PM BBT – Todd and Lamar play bickering. Todd tells Lamar he has pimples on his ass.

4:25 PM BBT – Miesha and Todrick talk about how people raise their kids. She explains how she's raising hers and Todrick talks about the way he wants to raise his someday.

4:57 PM BBT – Carson and Lamar are working out. The house is very calm and quiet.

5:08 PM BBT – Todd is vacuuming the house.

5:30 PM BBT – Lamar says he wants to go on a dating show after Big Brother.

5:45 PM BBT – House is quiet. We've got Todd walking around the kitchen by himself. No one else in sight.

5:50 PM BBT – Miesha is teaching Todd how to play solitaire.

6:55 PM BBT – HGs are all having dinner together. Todd made brisket.

7:56 PM BBT – Dinner is finished. Time to do more cleaning.

8:08 PM BBT – Todrick tells Miesha there's a really good chance that they will be in the finale.

8:11 PM BBT – Miesha wonders if the next round will have a double eviction. She says if it is one of them will surely win HOH. She asks if they should just take out Lamar. Miesha says Todd has proven himself to be more of a threat than they thought, but she would feel really bad getting rid of him because he was really been on their side.

8:24 PM BBT – Todrick and Miesha have settled on taking Lamar out next. They agree that they want to take Cynthia to the Final 3 because they know they can beat her in the comps.

9:30 PM BBT – HGs are hanging out in the kitchen chatting and playing cards.

10:25 PM BBT – Todd telling Cynthia and Lamar that he needs one of them to win the next HOH so they can target Miesha and Todrick. Todd doesn't want to go against them now because it'd break his word. Cynthia asks why Todd didn't put her up with Carson. Todd says "they" wanted that but he didn't want to put her up. Lamar says it's a longshot for one of them to win HOH.

10:30 PM BBT – Lamar observes that Todrick and Miesha are setting it all up for them to be in F2. Todd says that Miesha won't get all the Jury votes because she isn't well-liked.

10:32 PM BBT – Todd explains that he can't do anything about it now because Miesha would have to use the Veto and then he would get to make the renom, so she won't do that to protect Todrick.

10:35 PM BBT – Todd tells them if one of them can win HOH then they can get Miesha on the Block and vote her out.

10:40 PM BBT – Lamar confirms second-place money is $50K. Lamar says he's trying to help Todd get that.

11:05 PM BBT – Cynthia invites Lamar to work with her after Carson is gone, but Lamar says it's just him and Todd. They don't know why Todd feels he can't break some deal and thinks he must have shook on it.

11:10 PM BBT – Carson uncorks a bottle of wine.

11:20 PM BBT – Carson and Cynthia are sitting by the hot tub and talking about the future of the game. Cynthia worries he'll be gone on Friday and she'll be out on Monday.

11:30 PM BBT – Cynthia, joking about herself, says it turns out that not being good at anything keeps you around.

12:05 AM BBT – Cynthia explains to Lamar that Todd seems frustrated because he thinks Lamar doesn't want to be there. Lamar says he's still here and doesn't want to forfeit.

12:10 AM BBT – Lamar goes to see Todd and assures him that he wants to be there and is ready to play.

12:20 AM BBT – Todd tells Lamar they need to play hard to win and get Miesha with Todrick on the Block. Todd says Todrick is the real threat.

1:30 AM BBT – Todd and Lamar hanging around and then head to bed.
While it's good to see Todd knows they are behind when it comes to Miesha and Todrick it seems his realization has come a little late. When you're the HOH but you're afraid to take the action and then pin it on someone else down the line to get your work done, well that's too late.
Carson is still most likely out the door on Friday and then Miesha wants Todd out while Todd wants Todrick out. Time to see if Lamar or Cynthia can step up and help out.
You can watch all of these Big Brother events using the archives Flashback, the DVR-like feature of this year's Live Feeds which means it's always live, even when you missed it! Sign-up now to get the free trial to watch it all live & uncensored.


Gallery: Live Feeds Highlights
Download our Big Brother App, join us on Facebook & Twitter, and get our Email Updates for more!