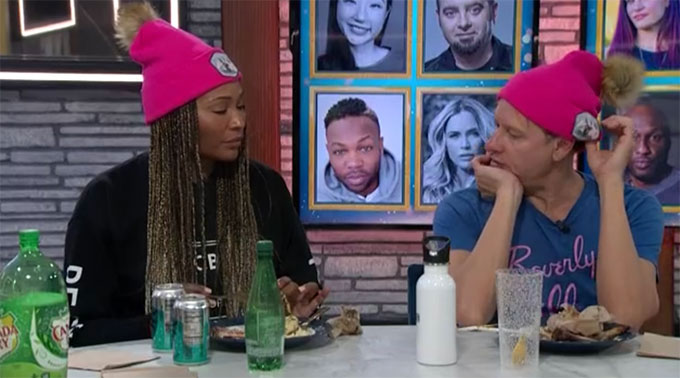 It was nomination day in the Celebrity Big Brother house, and while Miesha has set her target, there has been a lot of talk how the Power of Veto could be used, including one nominee using it on the other nominee. That talk comes up at least once a season. Read on to find out who could martyr themselves out of the CBB3 house.
If you've got the Live Feeds (Free Trial) then you can watch all of these moments with the Flashback feature to go back and watch those important conversations or funny scenes you may have missed.
Celebrity Big Brother 3 Live Feed Highlights – Tuesday, February 8, 2022:
3:10 PM BBT – Chris Kattan asks Miesha if she knows who she's nominating yet. She tells him he is not going up – not initially anyway. She tells him they will have to see what happens with the veto. He seems to be asking because he wants to go.

4:40 PM BBT – Shanna tells Carson that she thinks her days are numbered. Carson tells her that if he goes this week she should make a girls pact with Miesha and Cynthia. Shanna says she doesn't get why no one is going after Miesha. She says Miesha will just pick them off one by one.

5:06 PM BBT – Feeds cut for the nomination ceremony.

6:32 PM BBT – Feeds return. Miesha nominated Carson and Cynthia.

6:33 PM BBT – Miesha tells Todrick she feels sad because she likes Carson and Cynthia. Todrick says he feels like he's getting the blame for her noms. She says she's the one getting the blood on her hands.

6:34 PM BBT – Chris Kirkpatrick tells Shanna that he was waiting to see those faces show up on the memory wall and it could be good because Carson has a good shot at winning veto so they can still get Kattan up there as the renom and send him out.

6:45 PM BBT – Cynthia tells Todrick she would like to stay as long as possible and but when she has to go, she has to go.

7:18 PM BBT – Kirkpatrick tells Miesha she has to do what she has to and that the move is to get Carson and Cynthia out (he's telling her what she wants to hear). He tells her it's great to have her in this game because she is someone he can look to and has been straight up with him.

7:19 PM BBT – Shanna is bummed over the noms and feels like her days are numbered too. Carson tells her to just ride it out because she's really smart. He tells her to think about how he can help her game before he goes and let him know.

7:20 PM BBT – Carson tells Cynthia that if he wins the veto he will use it on her. She tells him no to save himself. Carson says he has to go because they will just keep coming after him. Cynthia says but if he wins veto and pulls himself off, she thinks the target won't be on her.

7:22 PM BBT – Cynthia tells Carson if he wins veto he 100 percent has to save himself. Shanna and Carson think they'll go after Shanna if Carson comes off the block. Cynthia says maybe they would put up Kattan, but Carson says they are going to keep Kattan around as long as they can because he will do what Miesha and Todrick tell him.

7:24 PM BBT – Shanna asks Cynthia if she would put up Miesha and Todrick if she won HOH would she put up Miesha and Todrick. Cynthia says she doesn't know if she'd put Todrick up but she would definitely put up Miesha.

7:30 PM BBT – Shanna says Miesha doesn't get to play in the next HOH so that will be their only window. Shanna said they have to target Miesha even if they don't put Todrick up with her. Shanna said she could put up Miesha and Todd.

7:50 PM BBT – Todrick and Miesha pretend to be upset that they just have to send Carson out because they know the cameras are on them. Todrick says he thinks Carson is defeated.

7:53 PM BBT – Miesha and Todrick wonder what happens after Carson goes. She thinks Shanna and Kirkpatrick will want to come after them, but Lamar and Todd will stay with them. Todrick says he will try to pull Cynthia over to their team.

7:56 PM BBT – Todrick and Miesha think Kirkpatrick would still go after Kattan before he comes after them.

8:45 PM BBT – Lamar let Shanna know that if he wins HOH he would nominate Miesha and Todrick. Shanna says that's a good plan because they are running the show.

8:53 PM BBT – Shanna tells Carson that she thinks Miesha would put Kattan up if the veto is used. Carson says he still thinks Shanna might go up just so they can all be separated.

8:55 PM BBT – Shanna asks Lamar who he would vote out if Miesha and Todrick were up. He says Miesha because she is the biggest athletic threat.

9:30 PM BBT – HGs hanging around the kitchen, eating, and chatting. Todd made ribs.

10:30 PM BBT – Carson talking with Cynthia and Shanna. He says he'd save Cynthia if he gets the Veto because she could stay longer.

10:55 PM BBT – Shanna and Carson went to the exercise room. Shanna hopes they might have Lamar on their side of the house after what he told her earlier about going after Miesha. Carson worries that Kirkpatrick is too close to Miesha and having trouble disconnecting from her.

11:30 PM BBT – HGs hanging around and few playing cards.

12:00 AM BBT – Kattan makes a cake run to the kitchen.

12:15 AM BBT – Cynthia notes that Kattan seems to be feeling/acting better now that he isn't a Nom. She thinks he may not want to go home anymore.

12:25 AM BBT – Carson, Cynthia, and Shanna discuss Lamar's consideration to nominating Miesha and Todrick. Lamar expected Kattan to be nominated. They agree that Lamar starting to get involved in the game could really change things. Carson thinks it took too long for HGs to catch on to what needed to be done.

12:35 AM BBT – Shanna tells Carson and Cynthia she'd also nominate Todrick and Miesha. She says she has a F2 with Kirkpatrick but he also seems to be aligned with Miesha.

12:40 AM BBT – Carson thinks his game is done. Cynthia tells him not to give up. Carson is worried if he uses the Veto on himself then Shanna could go up and out.

1:00 AM BBT – Lights out for the HGs.
Carson knows he's in trouble after being nominated and the house has caught on a few days late to what could have been done. Either Carson or Cynthia is most likely to be gone this round with Friday's eviction, but will the next HOH be ready to split up Miesha and Todrick?
You can watch all of these Big Brother events using the archives Flashback, the DVR-like feature of this year's Live Feeds which means it's always live, even when you missed it! Sign-up now to get the free trial to watch it all live & uncensored.


Gallery: Live Feeds Highlights
Download our Big Brother App, join us on Facebook & Twitter, and get our Email Updates for more!