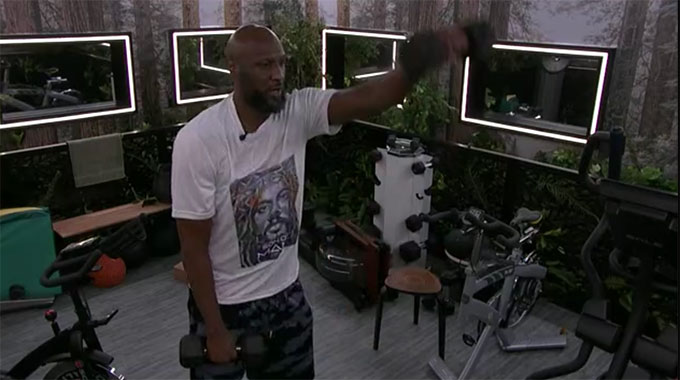 The first Celebrity Big Brother 3 houseguest has already walked out the door, and we have already entered the second round of this super-fast season. 10 players remain, and there's a new Head of Household and a new target emerging. Read on to find out what went down in the Celebrity Big Brother house after the first eviction Friday night.
Try Live Feeds 1 Week Free! Sign-up now!
If you've got the Live Feeds (Free Trial) then you can watch all of these moments with the Flashback feature to go back and watch those important conversations or funny scenes you may have missed.
Celebrity Big Brother Feed Highlights – Friday, February 4, 2022:
7:32  PM BBT – Feeds return after the live show.

7:35 PM BBT – Cynthia is doing some heavy cleaning of the house.

7:48 PM BBT – HGs discussing the Mon Won twist and when Chris Kirkpatrick realized what it said backward. Todrick said he was afraid he was going to be the last person to get the hat and would be sitting next to Teddi on the block.

7:55 PM BBT – Miesha says she is happy this round is over. She said it's like a weight lifted off her shoulders. Miesha asks Todrick if he thinks Shanna is OK after voting Teddi out. They think she'll be fine.

7:58 PM BBT – HGs are all hanging out in the kitchen, snacking, and chatting.

7:59 PM BBT – Carson says now it all starts over. Miesha says she can't believe they're already a third of the way through the game. Carson says they have three weeks left.

8:02 PM BBT – Feeds cut for the HOH competition.

10:19 PM BBT – Feeds return. Kirkpatrick is the new HOH. Sounds like the competition involved points. Sounds like it was pretty close between Kirkpatrick and Shanna.

10:28 PM BBT – Todrick and Shanna wonder who Kirkpatrick will put up. They agree they will support whoever he wants to target. Todrick says even if it's Mirai.

10:32 PM BBT – Shanna and Todrick turn the talk to Carson. Todrick says he loves Carson and Shanna says she does too but adds that he's a huge threat. Todrick says America is going to love him and says he will probably win America's Favorite. Shanna says they don't need Carson getting second and America's Favorite like Ross.

10:35 PM BBT – Shanna notes how Lamar didn't realize there was second place money too ($50K). She hopes he'll try harder now that he knows what's on the line.

10:40 PM BBT – Todrick wants Kirkpatrick to target Carson or Cynthia. He says Teddi poisoned the well for Kirkpatrick with those two HGs.

11:10 PM BBT – Todd talks with Kirkpatrick about targets. They think Carson and Cynthia will be tough to beat. They're both okay with Lamar.

11:50 PM BBT – Kirkpatrick talks with Carson and Cynthia. He tells them he's going to do his own thing and isn't listening to anyone tell him what to do with his HOH. He's just glad to have won it once so he can feel better about his game.

12:10 AM BBT – Shanna and Kirkpatrick meet alone outside. She thinks she can control Carson and Cynthia. Kirkpatrick worries they could draw a line in the house and become the new targets.

12:20 AM BBT – Kirkpatrick tells Shanna he's thinking he'll nominate Mirai and Todrick with Mirai as the target. He promises Shanna she's safe and can relax this weekend.

12:35 AM BBT – HGs discussing the HOH competition and it sounds like Kattan was one roll away from winning over Kirkpatrick.

1:45 AM BBT – HOH room is finally opened up but the house is already quiet. Kirkpatrick is upstairs alone as lights are going out around the house.
The new HOH is going to have to move quickly on the plans and he seems to have a good idea of what he'd like to do here by the end of the night. Likely won't be much time to debate on Saturday if we're going to see the next eviction by Monday night.
You can watch all of these Big Brother events using the archives Flashback, the DVR-like feature of this year's Live Feeds which means it's always live, even when you missed it! Sign-up now to get the free trial to watch it all live & uncensored.

Gallery: Live Feeds Highlights
Download our Big Brother App and join us on Facebook & Twitter for more!