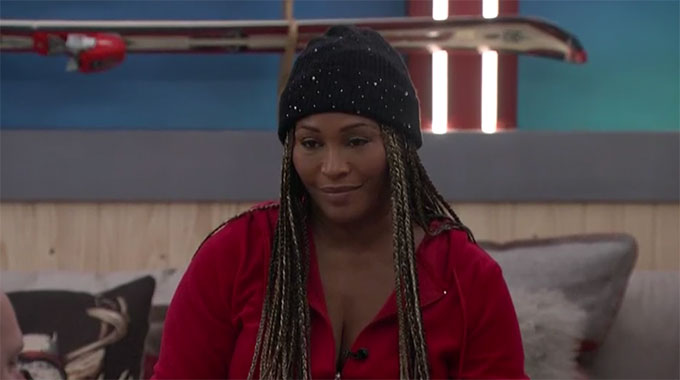 The Celebrity Big Brother 3 Live Feeds kicked into gear Thursday night, and we slowly started to piece together what has been going on since the nomination ceremony, which we saw in Thursday night's episode. It looks like the drama is in full force and there is even a new target, it would seem. Read on to find out what has been going on inside the Celebrity Big Brother house so far.
Try Live Feeds 1 Week Free! Sign-up now!
If you've got the Live Feeds (Free Trial) then you can watch all of these moments with the Flashback feature to go back and watch those important conversations or funny scenes you may have missed.
Celebrity Big Brother Live Feed Highlights – Thursday, February 3, 2022:
7:05 PM BBT – Feeds finally arrive a day late. Chris Kirkpatrick is talking with Miesha in the Lounge while Shanna talks with Mirai in Storage.

7:10 PM BBT – Kirkpatrick discussing votes for Teddi. Sounds like Teddi may be on the Block and the Veto has already happened.

7:10 PM BBT – Todrick and Teddi are having a talk in the gym room. Todrick is explaining how the alliances came together early on. Todrick mentions that Todd has been saying things that bother him.

7:15 PM BBT – Miesha and Kirkpatrick are discussing who is better to keep: Mirai or Teddi. Kirkpatrick thinks Teddi will win more comps but Miesha thinks Mirai could win Bowl-erina and wants to keep her for that.

7:35 PM BBT – Todrick and Teddi continue their talk as she says she's surprised with how he's shifted to targeting her after his earlier behavior that week.

7:40 PM BBT – Todrick mentions Carson got a time of 3m54s. We don't know if that was a winning time or just a strong performance but it sounds like it was a Veto comp perhaps and could explain why Teddi could be on the Block, possibly in his place. But that's all unconfirmed at the moment.

7:55 PM BBT – Todrick admits to Teddi that he is likely voting her out but says the blame should be on Miesha, not him.

8:05 PM BBT – Kirkpatrick and Todrick are meeting in the Sauna. He tells Todrick that he's getting close with Shanna and would like to see the three of them fighting together to the end.

8:15 PM BBT – Lamar tells Miesha to go with her gut and he'll vote the way she wants.

8:20 PM BBT – Todrick says something about Cynthia could have put up Kirkpatrick with the purse hat curse.

8:21 PM BBT – Kirkpatrick says the two people on the block are dangerous. He thinks that Miesha has Mirai in her pocket.

8:22 PM BBT – Teddi says if people want to backstab, have at it. She says she's playing the game straightforward.

8:27 PM BBT – HGs are talking about loving Mr. Peepers (Chris Kattan's SNL character).

8:29 PM BBT – Todrick seems to be throwing Carson under the bus with Miesha. He tells her that Carson has 18 people he's working with. Miesha tells Todrick and Kirkpatrick they need to get some sleep and clear their minds so they know exactly what needs to be done this week.

8:30 PM BBT – Shanna tells Mirai she thought she didn't want to work with her. Miesha says she knows that Mirai's head is back in the game she trusts her again. Mirai says she got played (by Todrick I think?).

9:15 PM BBT – HGs hanging out in the kitchen, eating and chit-chatting.

9:45 PM BBT – Todd talking with Miesha. Seems to mention Carson won Veto (explaining how he's down and Teddi is up).

10:00 PM BBT – Todrick joins Miesha and Todd. Todrick says he wants to work with them more than Carson.

11:00 PM BBT – HGs hanging out, doing makeup, and chatting.

12:35 AM BBT – Teddi is frustrated and feels she got backdoored without ever having a chance to fight. She soon starts working on packing.

12:50 AM BBT – Teddi talks with Shanna about Mirai who wouldn't talk to any of them for three days but is now suddenly feeling better.

1:00 AM BBT – Teddi going over the votes with Shanna. Teddi doesn't think she has much of a chance to stay.

1:20 AM BBT – Teddi talking with Cynthia about the curse aspect of the Won Mon bag. They wonder if she can swap noms.

1:45 AM BBT – Lights are going out as HGs head to bed.
First night of Feeds sorted out a few things like Carson seems to have won the Veto, saved himself, and Teddi was the renom at Miesha's hands. But the curse aspect of the Mon Won (backwards reads Now Nom…) has yet to be revealed to the HGs and the first eviction is coming up tonight (Friday). Teddi is probably in trouble on this one and we'll see what happens with the vote.
You can watch all of these Big Brother events using the archives Flashback, the DVR-like feature of this year's Live Feeds which means it's always live, even when you missed it! Sign-up now to get the free trial to watch it all live & uncensored.


Gallery: Live Feeds Highlights
Download our Big Brother App and join us on Facebook & Twitter for more!