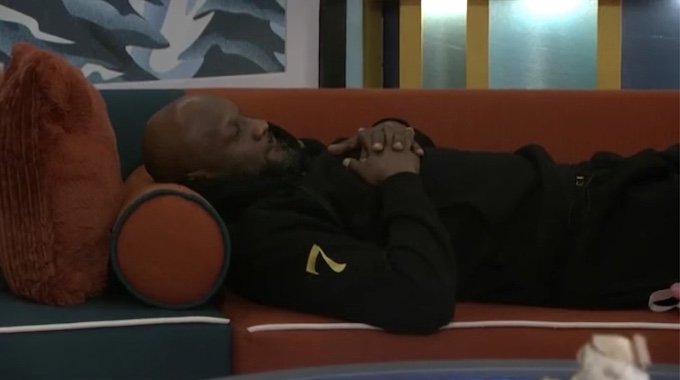 It was a calm day inside the Celebrity Big Brother house as the Power of Veto Competition came and went. There were some talks about what the plan should be moving forward on Celebrity Big Brother 2022 and the plan for this week became more solid. Read on to find out what happened Wednesday on the Celebrity Big Brother live feeds right here.
If you've got the Live Feeds (Free Trial) then you can watch all of these moments with the Flashback feature to go back and watch those important conversations or funny scenes you may have missed.
Celebrity Big Brother 3 Live Feed Highlights – Wednesday, February 16, 2022:
7:45 AM BBT – HGs got an early wakeup call.

8:20 AM BBT – Miesha and Todrick have pulled up a couple of chairs to talk about all their reasons for doing what they did to the live feeders.

9:28 AM BBT – The rest of the houseguests are finally getting out of bed. Lamar and Cynthia have a brief conversation in the storage room about the Veto and Lamar says something about not using the Veto if he wins it so that Cynthia isn't put on the block. She tells him to save himself and not to worry about her.

9:50 AM BBT – Carson and Cynthia are hoping to stand next to each other in the Veto Competition so they can communiate back and forth.

9:52 AM BBT – Cynthia camtalks a bit about how important it is for her to win today and take Carson off the block because it's two against four in the house.

10:05 AM BBT – Carson is peptalking Lamar. He tells him to hang in there and he can win this just like anyone else in the house.

10:26 AM BBT – Feeds cut to Animal Loops for Power of Veto.

11:52 AM BBT – Feeds return from Veto.

12:10 PM BBT – Todd is asking Lamar (who is in the HOH listening to music) if he needs to go home this round. He tells him that if he needs to go, he needs to tell them. Feeds have been in and out since the Veto Comp finished.

1:03 PM BBT – Todd tells Lamar that because "what's her name" won the veto, the noms will stay the same and Carson will be voted out. This confirms that Miesha won the POV for Round 5.

1:08 PM BBT – Miesha tells Todrick that she thinks that Todd should go next because he is mostly likely to win something between him, Lamar, and Cynthia. She says that they did say that at F4 all bets were off and Todrick reminds her that this would be F5, not F4.

1:12 PM BBT – Todrick tells Miesha that he doesn't trust that Lamar and Todd wouldn't vote him out if he was on the block. They talk more about the possibility of taking Todd out next and he asks if they would put Todd and Lamar up together? Miesha says hi.

2:20 PM BBT – The HGs are testing their blood pressure with Todd's blood pressure cuff. Todd's blood pressure is a little high.

2:50 PM BBT – Not much going on in the house right now. The HGs are chatting about their pets.
With Miesha winning the Power of Veto Competition, the plan to get Carson out will move forward this round of Celebrity Big Brother. Lamar has been campaigning to go home for a couple of days now and seems to be struggling mentally. With that being said, after his conversation with Todd, he seems to be okay with sticking around until next week's finale. We will keep you updated if any of that should change.
You can watch all of these Big Brother events using the archives Flashback, the DVR-like feature of this year's Live Feeds which means it's always live, even when you missed it! Sign-up now to get the free trial to watch it all live & uncensored.

Gallery: Live Feeds Highlights
Download our Big Brother App, join us on Facebook & Twitter, and get our Email Updates for more!