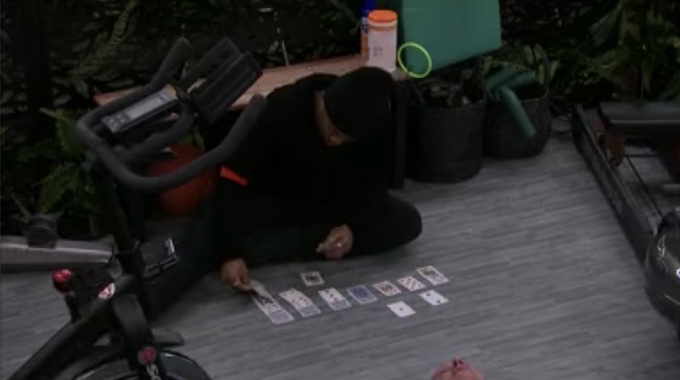 It was a slow day on the Celebrity Big Brother 3 live feeds with more of the same conversations going on. There was a new final four deal pitched inside the Celebrity Big Brother 2022 house and the plans for tonight's eviction were finalized. Read on to find out what the Celebrity Big Brother houseguests have planned moving forward.
If you've got the Live Feeds (Free Trial) then you can watch all of these moments with the Flashback feature to go back and watch those important conversations or funny scenes you may have missed.
Celebrity Big Brother 3 Live Feed Highlights – Monday, February 14, 2022:
9:15 AM BBT – HGs are waking up.

9:45 AM BBT – Cynthia is telling Carson about how she saw Miesha, Todrick, Todd, and Lamar go into the gym last night. She points out that Todrick wasn't in workout clothes and Todd doesn't work out so they were clearly having a meeting.

9:55 AM BBT – Carson, Cynthia, Todrick, and Miesha are in the HOH talking. Carson says that if Shanna wins the Veto, the noms will stay the same. If either of them win, Miesha will be taken down and Shanna will go up. They also pitched a F4 deal with them they both agreed. Todrick claims that his goal wasn't to take Carson out if he won anyway (it was).

10:25 AM BBT – Shanna goes up to talk to Carson and asks if they can talk. She wants to know if she is going to be backdoored and he tells her that it's a possibility. Shanna is trying to understand why that's an option and tells Carson that everything he is saying isn't logical.

10:30 AM BBT – Carson suggests that they all talk with Miesha and Todrick and Shanna tells him that it's not necessary. She will glady go home. She goes down to the room and asks BB for her suitcase so that she doesn't have to trust someone else to pack for her.

10:50 AM BBT – Carson is retelling his conversation with Shanna to Cynthia.

11:05 AM BBT – Carson has joined Miesha and Todrick in the gym and they are continuing to talk about Shanna.

11:17 AM BBT – Todd is telling Lamar about how they are planning to BD Shanna and Lamar mentions how he thinks that Todrick should go up. Lamar says that Carson isn't going to put Todrick up, but he will.

11:32 AM BBT – Lamar asks Cynthia if it's worse case scenario for Shanna to win the Veto. Cynthia explains that her winning the Veto is the only way to save herself.

11:45 AM BBT – Miesha tells Todrick that as much as she wants to win this game, she isn't sad that Carson is still there. She admits that she would be okay with losing to Carson.

11:47 AM BBT – Feeds cut to pet loops for tech rehearsals.
The feeds have been down since before noon and I think it's safe to say that they won't be back up until after the show airs tonight. As of right now, if Shanna doesn't win the Veto, she will likely go home. Also, since it seems like Cynthia, Carson, Miesha, and Todrick are working together, if Shanna does win the Veto tonight, Todd will likely go over Miesha.
You can watch all of these Big Brother events using the archives Flashback, the DVR-like feature of this year's Live Feeds which means it's always live, even when you missed it! Sign-up now to get the free trial to watch it all live & uncensored.


Gallery: Live Feeds Highlights
Download our Big Brother App, join us on Facebook & Twitter, and get our Email Updates for more!