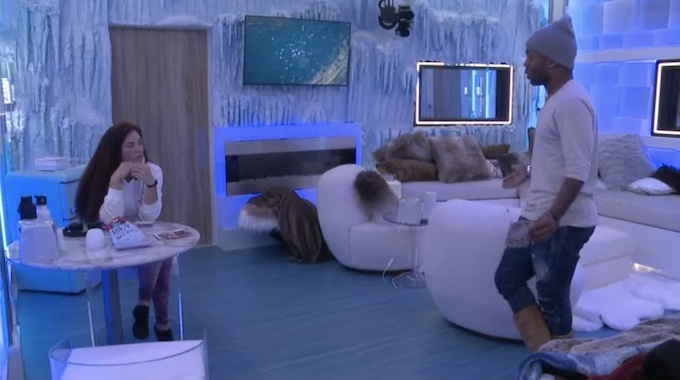 It is Eviction Day inside the Celebrity Big Brother 3 house. The Celebrity Big Brother live feeds were in and out early in the day, however, we did get to listen in on some pretty good conversations. Read on to find out what happened and who is likely going to be voted out during tonight's Celebrity Big Brother 2022 live eviction show!
If you've got the Live Feeds (Free Trial) then you can watch all of these moments with the Flashback feature to go back and watch those important conversations or funny scenes you may have missed.
Celebrity Big Brother 3 Live Feed Highlights – Friday, February 11, 2022:
9:15 AM BBT – HGs are waking up.

9:35 AM BBT – Carson wonders to Cynthia is they should drop hints that "they" talked about their plan? Cynthia thinks they should feel it out because it could show their cards.

9:39 AM BBT – After an extended "We'll Be Right Back" screen, feeds switched to pet loops at 9:57 AM BBT.

11:03 AM BBT – Feed return and Miesha and Todrick are talking about the likelihood of Chris winning another Head of Household Comp. Todrick also doesn't see a benefit in keeping Chris over Cynthia.

11:45 AM BBT – Todrick is talking to Chris about how he has always been transparent with him in this game and he has always had his back. Todrick mentions that the only time he wasn't completely transparent was when Chris was asking him questions he felt weren't his place to answer.

11:50 AM BBT – Chris tells Todrick that he thinks that this was a miscommunication. He tells Todrick that he was told that Todrick was coming for him and started to pull back. That was the only reason why he started to act differently and he also started to see Todrick pushing against him when he was HOH.

11:52 AM BBT – Todrick says that he should have talked to him about this because when he looks back at this, he will see that he was never coming for him. He also says that the two of them fighting has also impacted Miesha's game.

12:35 PM BBT – Feed came back after an extended downtime, Todrick is walking out of the suana room and tells Chris that he has to "fix this." Tells Miesha when he gets out in the kitchen that he wishes she was listening.

12:40 PM BBT – Todrick and Miesha head to the gym and Todrick retells his conversation with Chris.

12:55 PM BBT – Chris is talking to Shanna about how her game is in jeopardy and Todrick's game is too. Shanna tells him that he didn't put Todrick's game in jeopardy. Chris says that if he doesn't win HOH, they both go up.

12:58 PM BBT – Todrick tells Miesha that he made a commitment to Shanna, but if he wins HOH and gets the opportunity to backdoor her (if Carson comes down), then he will to show is loyalty to Miesha. She says she appreciates that.

1:00 PM BBT – Miesha tells Todrick that at finale, Shanna would never get her vote. She adds that she is happy that Todrick and Chris had a chance to talk and that she likes chapters to be closed.

1:15 PM BBT – Todrick tells Miesha that he hopes the finale is on Zoom because if he never has to see Chris again, it will be too soon. He tells Miesha that he told him that too and she laughed.

1:20 PM BBT – Feeds cut to pet loops.
I'm going to go out on a limb here and say that if Chris's fate wasn't sealed before, it sure is now. Cynthia will likely get through tonight's vote unscathed, but tonight's Head of Household competition is going to be imperative for her or one of her allies to win. Be sure to come back later tonight to find out who gets voted out and be on the lookout for our HOH spoilers too!
You can watch all of these Big Brother events using the archives Flashback, the DVR-like feature of this year's Live Feeds which means it's always live, even when you missed it! Sign-up now to get the free trial to watch it all live & uncensored.


Gallery: Live Feeds Highlights
Download our Big Brother App, join us on Facebook & Twitter, and get our Email Updates for more!