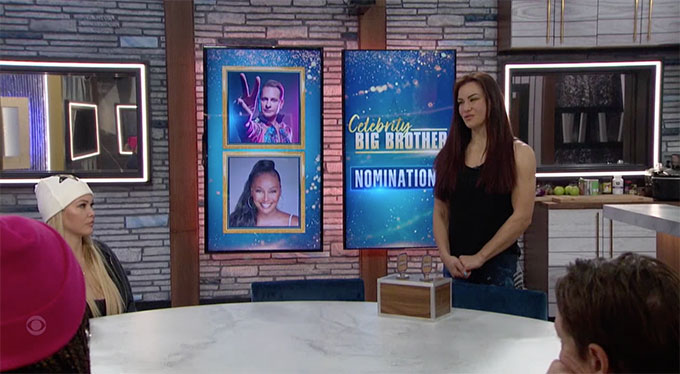 It's eviction day in the Celebrity Big Brother house, so that means one more famous face will be walking out the door. So who will it be?
Spoiler Alert! Stop reading if you don't want to know who won the Power of Veto and what happened after that.
The week started with Miesha nominating Carson and Cynthia. And that set Shanna on a mission to make sure Carson comes off the block. And when she won the Power of Veto, she completed her mission and removed him from the block. What she wasn't anticipating, though, was her No. 1 ally Chris Kirkpatrick was at risk of going up (well she and Chris knew there was a chance but Shanna though Miesha would have respected Chris' past loyalty to her).
So since Todrick had already been playing seeds of doubt about Kirpatrick to Miesha, she put Chris on the block. So that leaves the final nominees tonight as Kirkpatrick and Cynthia. And things aren't looking very good for him. Let's look at the votes. Also, I have to mention that Chris Kattan left the game during all of this. So the house will be down one vote tonight.
Likely votes to evict
Cynthia: Shanna (only if she clears it with Cynthia as a sympathy vote, but I doubt she does).
Chris Kirpatrick: Todrick, Carson, Lamar, Todd
I really don't even expect Shanna to give that sympathy vote because she plays to protect herself, and that could make the target on her even bigger. So I wouldn't be surprised at a unanimous vote send Kirpatrick out to meet Julie tonight.
Of course things can change throughout the day ahead of the live show, but I think this is where we are. I think Kirpatrick would be a better ally for Carson and Shanna, since Cynthia hasn't performed as well, but I think they know this is the move that they have to make.